2017WillardWandering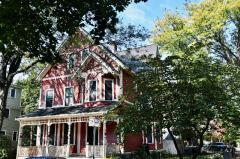 6th Oct 2017
Welcome to America!
This blog is a little rant about the things that went wrong on our arrival in the USA, after a pleasant British Airways flight from Heathrow. Arriving 20 minutes early at 8:30pm (ie 1:30am Dublin time) we had a series of events that tried our patience somewhat:
1) We waited 25 minutes on the plane before disembarking, because there were no ground staff ready to operate the air bridge
2) We waited a further 20 minutes in a long line to be processed through immigration because they only had 2 gates open for non locals who hadn't entered on a new visa before. Handprints, thumbprints on both hands and facial photo and questions were actually carried out courteously once we got there, but there were a lot of tired a grumpy people around us.
3) Our luggage had all been unloaded while we had this 45 minute delay, but on the wrong carousel according to the signs, and actually no longer going round on the belt. (Had the luggage staff gone home?) That would have been fine except mine was one of several bags stuck behind plastic curtains and only accessible by crawling through them along the stationery luggage belt to retrieve it!
4) We had filled out our customs declaration form on the plane (one only needed for the Willard family), but that section was closed and we just walked through and threw the form away.
5) Our elderly taxi driver did not know where we were going (it is an Air B&B near Harvard). He called a friend on his mobile for directions but ended up in an unrelated street several miles away from our destination. I got out my iPad, and used Google maps to direct him to our street. Of course he would only take cash, despite having a credit card machine in the car. Luckily I had expected that and had plenty of readies to pay. I had not expected that cabs wouldn't have GPS directions for the drivers.
Let's hope these experiences are not symptomatic of a general decline in efficiency under the new management here. The good news is that we have arrived safely and the apartment is very large and comfortable, in a nice area. We will explore tomorrow morning after catching up on sleep. Good night!
Diary Photos
---