2017WillardWandering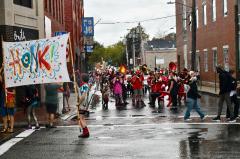 9th Oct 2017
Honk Parade, Quakers, Movie and MIT
Today (Sunday) there were two street parades held in Boston. The traditional St Columbus Day Parade took place downtown but Geoff went to the radical alternative: the Honk Parade, where political activists and marching bands come out to make a noise together. (Moira: just like the Riff Raff band). He has taken LOTS of photos for you. At the same time I attended a Quaker meeting at Cambridge - a much quieter option in a lovely setting. Lots of kids, who stayed with parents in the choir loft above the main Meeting Room for 20 minutes before going off to their own activities.
After lunch we saw a great new movie called "Lucky" which hasn't yet been released in Australia. It's about a rather cranky old man coming to terms with his mortality in a desert town somewhere in the US. Highly recommended by me and a 97% score on the Rotten Tomatoes website. We followed that up with a stroll around the campus of the Massachusetts Institute of Technology, the other great university of Boston, where there is a quirkily tipsy new building by Frank Gehry. It is still surprisingly hot and humid here and we definitely have the air conditioning going.
We were disappointed to read this morning that Tim Minchin's musical "Groundhog Day" (for which we have tickets for a performance later this month) has closed on Broadway. It was nominated for 7 Tony's and won the Olivier Award for best musical this year in London - so why? I've just written to Ticketmaster to ask for some alternatives and an explanation of why we haven't been told already!
Diary Photos
---