2017WillardWandering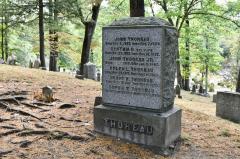 12th Oct 2017
A visit to Concord, MA: an intellectual pilgrimage.
Geoff writing today (and some of words in the photos are to reflect upon):
We caught the train to Concord - a mere 32 kms from Boston. Read up on Ralph Waldo Emerson and Henry Thoreau, two of my favourite 19th century intellectuals; Emerson because of his writings on friendship and Thoreau for his challenge to live a simple life.
We walked to the cemetry where they are buried, then to Emerson's house, the Concord Museum and finally Walden Pond (strolling completely around the whole pond). I think Thoreau would be pleased that we, unlike most, actually walked (about 16 kms all up through Concord and around the pond).
Walden Pond has a beach at one end and is well used for swimming during the Summer season. Some people were swimming today.
Concord is a very clean, neat and tidy town, with a lot of very large houses. We are interested to see whether this is a New England phenomena.
One day left in Boston and then into the car.
Diary Photos
---