2017WillardWandering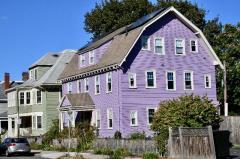 13th Oct 2017
The Newest and the Oldest in Boston
This morning we experienced a fascinating virtual reality installation - "The Enemy" - at the MIT Museum, organised by a famous war photographer Karim Ben Khelifa. Wearing headsets that provided vision and sound, for 50 minutes we entered three different "rooms" and were confronted with 3D avatars of fighters from opposite sides of three different wars - in the Congo, El Salvador and Palestine. These fighters answered questions posed by the photographer and in their own words offered personal perspectives on war, including thoughts on motivations, suffering, freedom, and the future.
The participants were filmed using 360-degree imaging and recordings, and the project was further developed with MIT experts in articial intelligence and digital technologies. I wonder if this will be the future of film. It was certainly very engaging; the avatars appeared very real and would react as we moved around them - following our positions to answer questions and even casting shadows on the floor from light beams above. At the end of the experience we were told which fighter we were most sympathetic to, based on our body and eye movements. You can see a photo Geoff took after we had finished, showing what it looked like from "outside".
The exhibition is meant to travel around the world and here is more information if you are interested: https://arts.mit.edu/face-face-enemy/
After lunch we had a much more traditional tourist experience, walking the Boston Freedom Trail - a 2.5 mile path that leads past 16 historical sites around the city. They are very proud of their colonial history here and the role they played at the beginning of the war of independence. As a non-American I don't find it so enthralling and the history is not that much older than the Australian experience really. Sydney's Rocks area is similar to some of the older portside parts of this city. Nonetheless we both really like this city - the architecture, the culture and its size. Pity about the coffee...
Tomorrow we head off in a car for a week's tour around New England.
Diary Photos
---