2017WillardWandering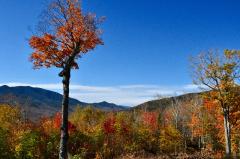 18th Oct 2017
In the shadow of Mt Washington - Live Free or Die!
Our road trip from Stowe to North Conway today was one of the prettiest drives we have ever done. We scraped the frost off the windscreen then travelled through the White Mountains in full sunshine and much cooler temperatures, with bright autumn colours everywhere on the lower slopes, green conifers above and then a fresh dusting of snow on the mountain tops. Lots of other leaf peepers stopping to take photos, along with Geoff.
We are now in North Hampshire, where the State motto is: "Live Free or Die". I assume this is meant to mean something like Follow Your Dream, but it sounds a bit creepy to me, bringing up visions of gun toting secessionists.
3 Fun Facts about Vermont: (1) it was the first State to have civil unions for same sex couples (2) it is the only State to have elected a Socialist senator in the 21st century, and (3) it is the only State with a capital city with no McDonalds restaurants!
Diary Photos
---