2017WillardWandering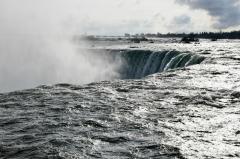 4th Nov 2017 - 5th Nov 2017
Niagara and more + an amazing coincidence
We took a tour to Niagara Falls yesterday. My daughter Elly had said it was a bit tacky, but we were both impressed and delighted by the beauty and majesty of the site. There is one horrible tourist street, but it is kept well away from the river and surrounding manicured parklands.
As you probably know there are two sets of falls where the water spills from Lake Erie into Lake Ontario - one set on the American side and the bigger and more spectacular Horseshoe Falls on the Canadian side. They aren't the highest falls in the world but they do have the biggest volume of water - 750,000 gallons per second (!) we were told. IThis creates a huge roar of falling water and surprisingly tall plums of spray/mist that rise up up into the sky. We were lucky to have sunshine again to see this from the edge of the falls above and then ride the boat up to the base in pink ponchos to protect us from the spray. A memorable experience we think.
After lunch we returned via a winery visit (the Niagara Region wineries produce 90% of the icewine in the world). Icewine is made from carefully crushed, frozen grapes handpicked at night, each grape releasing one drop of concentrated nectar: 3700 grapes are needed to produce one small bottle. We had one with dessert at our wedding dinner ten years ago; we'll share this one with Ray and Gary in San Francisco.
Today we took a fascinating walking tour with a volunteer guide which focussed on some of the downtown area: a non-official and subversive look at Toronto history from a Cambridge graduate forensic psychologist, who does this for fun (and tips) during the 4 months of paid break from work he has each year, given by his employer to protect the mental health of their front line employees. We learned that: (1) Toronto was originally called New York but changed the name to a local native Indian word (meaning 'swamp') after the mail kept getting mixed up with that for New York City in the US; (2) A Trump Hotel in town was recently sold after occupancy had fallen to 10% - it is now up to 50% after being renamed the Adelaide Hotel - clearly Canadians have no love their big brother to the South; (3) Toronto is the fourth largest city in North America after Mexico City, New York and Los Angeles. Chicago is just a bit smaller. The greater metropolitan area actually has a population of around 6-13 million (depending on where you draw the boundary) and a growth rate of 500 people per day. There are cranes building new apartments everywhere. (4) Lots of movies and TV shows are filmed here, pretending it is NY or LA, lured by tax concessions from the Toronto city government. Geoff just had to take a photo of where "Suits" is filmed, a Netflix series we have much enjoyed in the past. Stephen Fry has described Toronto as "New York run by the Swiss", and we can see what he means.
In the afternoon we took a tram to the Beach area in the east end of town. Lovely tree lined streets run down to a promenade along the lake, which was windy and cold today (the maximum temperature was 8C). It reminded me of a trip we took to Brighton in Melbourne, but the sand is greyer here.
The great coincidence today was walking into a random coffee shop near the food markets at lunch time and find Paul Maharg and Nicola from Papay! He is here working at the Uni and she is over visiting him for four days. What a small world and how unlikely that we would just bump into each other in a city of this size.
Diary Photos
---