2017WillardWandering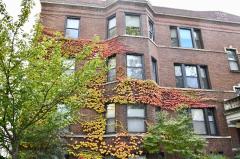 7th Nov 2017
Frank and the Piano in Chicago
It was cold today in Chicago (5C max) but the sun was out so we set off downtown and spent the day around the Millenium Park area on the lake edge. A grand public space has been created there with the terrific popular sculpture Cloud Gate by Anish Kapoor - looking like a polished mirrored bean, Frank Gehry's bandstand for outdoor concerts (the third of his works we have seen on this trip), and the great Art Institute of Chicago where we spent most of the day. It has a new Modern Wing extension designed by Renzo Piano (opposite the Gehry, hence my blog title). We joined a tour of highlights of the modern collection by a very enthusiastic and knowledgeable guide, which we enjoyed immensely. The whole collection is a bit overwhelming, and it is especially rich in impressionist works.
The city is filled with lovely early 20th century buildings, which we will start to explore more tomorrow. We are staying out of the the central area on a delightful street in the North Center district, in a spacious 1920s apartment on the top floor of a building with lovely wooden features, stained glass and high ceilings, owned by a retired architect.
Our trip from Toronto yesterday was remarkably easy, leaving from a little airport on an island off the edge of the city which you reach by underwater pedestrian tunnel. Security was quick and pleasant and when we landed at the smaller Chicago Midway airport we were first off the plane and through in no time, with a very jovial immigration official welcoming us. What a pleasant change! Always wise to travel via small airports if you can.
Diary Photos
---