2017WillardWandering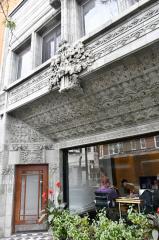 8th Nov 2017 - 9th Nov 2017
The Sweet Life
I had heard that Americans like sweet food (and I knew for example that the Coke formula in Australia has less sugar than in the US), but we have experienced it ourselves now that we are buying food here to eat at home.The bread and porridge are all much sweeter than we are used to (even the whole grain versions), doughnuts are seen as normal breakfast food, not rare treats, and lots of coffee is offered with flavored syrups. Perhaps the idea of a treat has become a daily refuge from the horrors of political life? This was exemplified at a meal we had at the Art Institute; you can usually depend on art gallery cafes for good food. We ordered a dessert plate of "fruit, nuts, cheese and chocolates" to share. What we got was four types of chocolate (truffles, ordinary milk choc pieces, a dark chocolate log with dried fruit, and a white chocolate slab with dried fruit bits), candied pecans, and one soft goat's cheese with cranberries added. No crackers. Not at all what the French would offer! It was delicious but we couldn't eat it all. (The rest of the meal had been lovely, starting with Brussels sprouts chips - individual crisply baked leaves, served with aioli.)
Yesterday we walked around the nearby Lincoln Square area - an old Geman settler district with lots of restaurants and food shops - and had a lunch of the classic Chicago deep dish pizza (actually pretty nice, more like a tart with a pizza base). In the afternoon we took a 90 minute river cruise with a "docent" from the Architecture Foundation talking about the city buildings, and how the river flow was reversed in 1900: it now flows south to the Mississippi, via a canal, rather than into Lake Michigan (an early attempt to deal with a polluted waterway). Very interesting but cold (only 6 degrees) under grey skies, as you can see in Geoff's photos. He does love the buildings - the beautiful Art Deco ones and the modern. Interestingly, when our docent heard we were from Canberra she immediately said there was a Chicago connection because Marion Mahony, the designer of Canberra, came from Chicago. No mention of Burley Griffin. Marion was one of the first licensed female architects in the world and worked with Frank Lloyd Wright. When you read the Wikipedia article on her you realize how much she has been perhaps unfairly overshadowed by Griffin's name, in Australia anyway - presumably because she was a woman.
Today it was still cold but sunny again and we decided to walk the 606, a disused elevated railway line that has been converted into a multi-use recreation trail and public park, like the Highline in New York. A great way to see some more of the city away from the downtown area. We do like this city - and have remarked how few police there are on the streets, a marked contrast to New York.
We finished the day at the movies, wasting the good weather indoors watching a disappointing film - The killing of the sacred deer. "Brilliant Shit!" Was Geoff's verdict.
Diary Photos
---