2017WillardWandering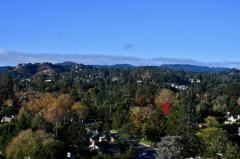 13th Nov 2017 - 14th Nov 2017
San Francisco views
We have been walking and eating our way around town for the last two days. Yesterday Ray and Gary took us walking on the San Bruno mountain ridge nearby, providing great views of the city and the bay, and then over the Golden Gate Bridge to the Marin headland for more views.
Today Geoff and I took a guided walking tour around the Fishermans Wharf district and then wandered around other parts of the downtown area. We had seen a lot the standard sights on previous visits - the Castro, Haight Ashbury, Berkeley etc - so we just followed our noses a bit today, making sure to include a stop at the Mr Holmes bakery recommended by Beth Wooldridge.
Commuting on the double decker trains from San Mateo into the downtown area is reminiscent of Sydney, but the carriages here have a strange top level of two rows of single seats separated by an open atrium - a bit weird and inefficient we thought. On the other hand they all have great bike compartments.
Diary Photos
| | | |
| --- | --- | --- |
| View from the roof of Gary and Ray's apartment building: San Mateo. | On a walk along a ridge: only in SF! Airport has a yoga room and toilet for animals. | SF and the Golden Gate |
| Looking away from central SF in Marin County. Dry. | A different view away from the Golden Gate. | Alcatraz |
| We are on our way to lunch. | View near our lunch venue looking back to Marin County. | A very wide beach. And 15C water temperature year round. No beach swimming in SF! |
| These very Californian trees. Cypresses. | Berkeley band about to make a lot of noise in preparation for the local derby against Stanford. | 13C water but they swim every day. No wet suits allowed at this private harbour beach. |
| Berkeley student band playing 'Let's do the time walk again'. Great fun. | We only eat male crabs. The season starts on Wednesday. Gaol for those who catch female crabs. | Says it all!! |
| A boat loaded with crab pots ready for Wednesday. | These boats are over 100 years old. | Fisherman's wharf, SF |
| Sea lion waiting (begging) for some food. | His name tag reads: I work here. | We ate at Chantal's sourdough bakery, a SF iconic institution. Lunch for us. |
| They are still running. | What great trees. On Russian Hill, SF. | We just made it in time, Beth. We got free coffee and free pastries (nearly all sold). Yummo. |
| We walked through a movie set, stopped because of rain. The female star was dressed like Wonderwoman | SF theater, more like a Mosque. | Note the balconies on the right. |
| SF mural. | SF mural. Tell me what this is all about?? | The US has just 'celebrated' Veteran's Day. |
| OK, so his is bigger than mine. | What next! They were lined up to go in. | Contemporary Jewish museum, SF. |
| I say nothing. | Great Martin Luther King sculpture/memorial, SF. | SF downtown, old and new. |
| You can walk behind the King memorial. | And there are a number of King's words. | Colourful SF. |
| This is called 'Shaking Man'. I thought he looked like Ronald Reagan. | The Cherry Picker chorus line, with conductor on the right. | Very weird train that we caught from San Mateo to SF. |
---