2017WillardWandering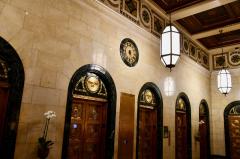 20th Nov 2017
LA Confidential
Do you remember that great film from 1997 with three Aussie stars (Russel Crowe, Guy Pearce and Simon Baker), plus a few other big names: Kevin Spacey, Danny de Vito and Kim Bassinger? Well Los Angeles is a bit different now. After a lovely train trip down the coast yesterday, we are staying in the Downtown area, which used to be shunned as dangerous and run down. There are still grotty parts and lots of evidence of poor and homeless Mexican and Black Americans on the streets, but there is obviously a revival going on amid the many fading Art Deco buildings.
Grand Avenue has a string of shining cultural monuments - two museums of contemporary art, an opera house, a theatre, a very modern cathedral, and the glorious shiny new Walt Disney Concert Hall. We went to a concert there this afternoon to hear the LA Philharmonic performing Purcell (Fairy Queen Suite), Bach (Suite No 3) and one of my favourites, Pergolesi's Stabat Mater, although this is not to Geoff's taste. Good performances with a French female conductor, Emmanuelle Haim - disrupted by a false fire alarm in the first half (I have never experienced that before). We half-heartedly started exiting before we were told it was all OK and to resume our seats. The concert hall (our 4th Frank Gehry building this trip) is fabulous both inside and out, as you can see if you look online.
But as well as modern LA, we also saw its more rustic Mexican roots this morning. There is a street market near the central railway station, full of Mexican stalls for clothes, trinkets and food, and also the oldest existing adobe house from the original Mexican settlement, dating from 1818. We hear Spanish spoken everywhere around town and there are more Spanish than English channels on our TV (the latter including Dr Blake Mysteries, would you believe). Of course this Spanish influence is not unexpected given the State's history, but somehow we weren't fully aware of it till now.
We are staying in an AirB&B in a very grand Italian Renaissance style building from 1925, which used to be a subway terminal and office building, but was converted 10 years ago into apartments with an opulent marble lobby. I had hoped that the central food market nearby would be worth exploring, but we found it pretty disappointing, more like a crowded shopping mall food court than a place to shop for local artisan ingredients. A pity, but the local Whole Food Market (a national chain) offers an abundance of organic and other quality groceries.
Tomorrow: Hollywood!
Diary Photos
---