2017WillardWandering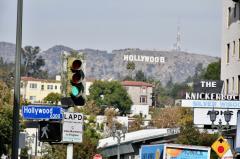 21st Nov 2017
Hollywood, Hubbard and Humbug
We caught the Metro to Hollywood this morning; yes they do have one in LA and it is clean, spacious and uncrowded compared to London, New York and Chicago. The decorations of the Hollywood &Vine station include a great ceiling of old film reels and several old movie projectors.
Hollywood Boulevard itself is pretty tawdry and disappointing - quite a few sex shops, run down theatres, beggars, and tourist trap souvenir shops. The glamour days of red carpet premieres at exotically themed picture palaces seem to have faded. Of course this does not deter the sightseers and we too looked at the stars in the footpath on the Walk of Fame, the footprints and signatures in cement outside the Chinese Theater, the famous sign on the Hill, and the site of the Academy Awards ceremony - all part of a one hour walking tour we took. But just as noticeable was the heavy presence of Scientology. Within two blocks they had three buildings and lots of advertising billboards, including a weird museum to L Ron Hubbard. Is all this funded by John Travolta and Tom Cruise? Of course you can ignore that and enjoy having your photo taken with a real life Edward Scissorhands, Spider-Man, Willy Wonker, Marilyn Monroe, Minnie Mouse or Sleeping Beauty, if you prefer movie fantasy to wacky sci-fi pseudo religion.
Our guide told us that the Donald Trump footpath star (gained for his TV work) was destroyed with picks last October, but replaced within 24h by the Chamber of Commerce, who run the feature and charge nominees a one-off fee of $40,000 for the privilege of being memorialised in the sidewalk. I was surprised to find classical musicians like Yehudi Menuhin sharing the footpath with Michael Jackson and Mae West, but there are 5 categories of entertainment that are recognised: film, TV, stage, radio and recordings. Gene Autry, the singing cowboy, is the only person to have a star for all five. That says it all.
Our time wasn't totally wasted. We went to a cinema there and saw a fabulous new film: "Three Billboards Outside Ebbing, Missouri". A rare but successful mixture of tragedy and laugh out loud comedy. Do see it.
Diary Photos
---