2017 Year of Fun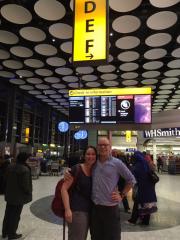 31st Dec 2016 - 3rd Jan 2017
Year of fun begins!
To cut straight to the point - We made it!

We arrived into Zanzibar airport at 16:30 New Year's Eve 2016. In true Taylor-McGlone style, we were still packing half an hour after we were to due to leave to Heathrow, due to the death of our hamster (RIP Umbongo), a hard drive that we forgot to load films with, and a Kindle that apparently you will need to load with books if you want to do any reading.

With the exception of one sister and one brother, we had a whole family lunch in Heathrow. After a lovely albeit emotional goodbye, check-in was timely, and despite sadly not being grilled and frisked by immigration (one of these days it will happen, here's hoping!) we were very excited, which called for some airport prosecco, naturally.

If you've ever met James, you will know he can be a tiny bit grumpy. Africa 2015 saw his alter ego; he was happy, friendly, and people even liked him! It was then that his nickname 'African James' was born. Since then, Katryn has longed for African James to come back into her life and has dreamed of the next trip to Africa.

However, upon changing flights in Doha, she was sad to learn that Middle Eastern James was tired and hungry, therefore unsurprisingly grumpy to the max. Apparently Middle-Eastern Katryn walks around with her flies undone. We shan't be making a trip back that end anytime soon.

We landed without a hitch, and after a 50 USD taxi to our hostel we settled into our new home for the next few days. Our plans to explore the local town and restaurants were quickly changed once we were informed of recent nocturnal muggings on the beach outside our hostel where tourists were threatened with machetes...

New Year's Eve was always important in this trip - seeing in the year that has been aptly named 'The Year of Fun', greeting the excitement that 2017 would bring. It was a big shame that African Katryn and James (finally he had arrived!) were too jet-lagged to see these promises through... 11pm saw us both in bed. We were briefly woken by cheering from the other residents as midnight arrived, we whispered "Happy New Year" to each other and rolled over. Not quite what we had planned, but amazing and necessary just the same.

The first day of the Year of Fun could not have been any more different to how we had planned. Eager to change dollars to Tanzanian Shillings, we took a walk on New Year's Day along the beach to the local 'town' of Paje. A town that we now believe to be a joke on tourists. What is Paje like? Well, we can't tell you. Every person we asked told us a different way to Paje, some even confused as to why we were asking. Four hours later and both burnt to a crisp that has since turned to blisters, we headed back. The next morning saw exactly the same comedy of errors play out. After subsequently getting some shade, and realising that paying in local currency would actually only save us 10% we gave up and tried to relax, understandably the term 'f*ck Paje' quickly became a well-used saying.

The rest of the time here has been spent lazing by the beautiful pool in hammocks, swimming (practising our handstands, of course!) and ordering food and waiting 2 hours for it to arrive. We dipped our feet into the sea (with our faces completely covered with sarongs to avoid any more unnecessary burns) which was gorgeous and warm, like bath water! We had lots of fun spotting crabs and fish, and wrote our names in the sand.

We met some lovely guys from Serbia (if you're reading this, please comment so we can catch up!) who we enjoyed hanging out with, but were slightly envious that they successfully made their way to Paje (or did they really...?).

Today we are leaving to meet our group for our Africa trip on the other side of Zanzibar island, in Stone Town. We will spend 39 days with them, touring through Tanzania, Zambia, Malawi, Zimbabwe, Botswana, Namibia and onto South Africa. We are excited, if not a little bit apprehensive. And if we don't see any signs for Paje on our drive over to Stone Town, we won't be surprised!

Quote of the day
Day Zero - the day we arrived (New Year's Eve):
"I hate backpacking"
Katryn Taylor, 30.12.2016 (still 2016, so the Year of Fun hadn't officially started yet), 2 hours after arriving.
Diary Photos
---