2017 Year of Fun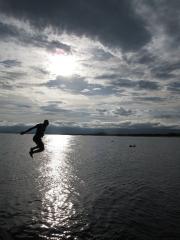 9th Jan 2017 - 16th Jan 2017
Malawi and Zambia
Arriving into Malawi and I'm beginning to feel a little better! The persistent stomach cramps are easing and I'm able to eat bigger portions, which is great as the food that is cooked for us is really very tasty.
For most of the journey we were driving alongside Lake Malawi. Lake Malawi is about 580 kilometers (350 miles) long and roughly 75 kilometers (47 miles) wide. It shares shores with Mozambique and Tanzania where it is known as Lake Nyasa (in Tanzania) and Lago Niassa (in Mozambique). The lake itself has been estimated to be as old as 2 million years old. It is the southernmost lake in the east African rift system and is home to about 1000 species of cichlids (and of course crocodiles!) At its southernmost point it feeds into the Great Zambezi river.
From the truck we could see clouds of gray just above the waterline of Lake Malawi. They looked like smoke, but we were told that these were lake flies (which are apparently a delicacy)- it was amazing! Apparently they weren't mosquitos - to this point James and I have apparently been quite attractive to them, so we were relieved at this.
We spent two nights camping on the shores of Lake Malawi, each night at a different side. As soon as we arrived at the campsites on each night we checked out the beach for crocodiles 9waving our head torches over the lake in the hope that we would see their eyes shining in the light) but again to no avail. Some of us took a rowboat ride to a small island in the lake made up of rocks. On the rock we climbed to the other side and were able to see Mozambique in the distance, it was beautiful. One local did a couple of plaits in my hair and told me he would braid my whole head for just $20 (US). If we weren't on such a budget I would have been keen, mainly because James was adamant I would look ridiculous...
After fun on the rocks we rowed back to the beach, and a slight case of mistaken identity led me to thank and shake the wrong guy's hand as we got off the canoe. James was hysterical, as the chap was another local who was minding his own business and had nothing to do with the boat or the fun we had on the rock. If there was ever an awkward moment in the history of Africa, this was it.
The following morning we did a village tour with a local guide. We were welcomed into locals' homes and saw their way of life. There was one water well in the village that was easy for us to pump the water, but not so easy for us to carry the water on our heads as the locals do. We were told that they learn to do this from 5 years old and that's why some don't even need to use their hands to balance it! Everything in the village seemed completely relaxed, a far cry from the hustle and bustle of London that we are used to.
In the afternoon, James and I along with 2 other truck mates Dan and Eryn went on a 2 hour horse ride throughout the jungle and villages near our campsite. It was what James wanted to do and he clearly loved every second of it. His horse was called Toots and lived up to the name, it farted in my horse's face constantly.
My horse was called Boots, and it's probably a good time to mention that I don't like horses, at all Needless to say, I spent the whole 2 hours thinking I was going to be thrown off. Whilst the scenery and experience was great, my heart was on tenterhooks the whole time.
My fear became a reality when at the end of the tour we went swimming with the horses in Lake Malawi. We rode into the lake bareback (with no saddle) and as soon as Boots walked into the water I could tell she didn't like it, and neither did I. She tried to turn back to the beach, but the guide tethered her to his horse and led her further out into the lake. She wouldn't do the turnings I tried to get her to do, and when the other horse pulled her right, she stayed left, and I fell off into the lake! One of our truck mates is a bogan called Brad from Australia, and his doctor had advised him not to go swimming in Lake Malawi, as there are parasites that would cause infection. Remembering this - I was desperate to get out the water. I jumped back on Boots and we walked straight out. Not my favourite experience, and I was very glad when we were all safe on the land and Boots was tied up to the fence!
Sad that I hadn't seen a crocodile yet, but ecstatic that I hadn't seen one whilst I was on the horse, we asked around if anyone knew if there were crocodiles in the lake. A local told people in the group that a local woman had been killed by a crocodile last year. There were warning posters in the mens' toilets (but not the ladies'?) saying people shouldn't go swimming because of the crocodiles, but the manager said there weren't any.
In the evening we played Cards Against Humanity with the rest of the group, and went crocodile hunting in the evening again with our torches. And of course, there were no crocodiles to be seen. However, Zambia is our next destination where we will be doing a game drive, fingers crossed for the crocs!
Zambia
Zambia is beautiful, and we got off to a great start. When we were at the border to cross from Malawi to Zambia the television was on, showing what can only be described as Zambian EastEnders. We couldn't hear what was being said, but James narrated it for me… We saw what looked like African Pat Butcher with massive earrings, a really old chick which was of course African Dot Cotton, and a bald guy which was clearly African Max Branning.
The campsite we were staying at was incredible - right on the river. The other side of the river was part of South Luangwa Game Reserve. We were told that hippos would come out the water at night and feed on grass where our tents were! We had to pitch our tents in a circle, leaving enough room for hippos and elephants to move freely in between each tent, if we didn't, they would just squash the tents. We could hear the hippos make a grunting noise which shows they are marking their territory. We didn't hear any grunting during the night and were relieved that none were outside our tent when we went to the toilet first thing. We were later told however, that we wouldn't be able to hear if they were by our tents as the grunting is only done in water… so who knows what was happening during the silence in the night! We got up early to go on a morning game drive, which was amazing.
The aim for Africa is to see the Big 5. The Big 5 are historically the 5 animals in Africa that are the hardest to kill, and are lion, buffalo, leopard, rhino and elephant.
On the two game drives in Zambia we saw 4 of the 5, which was amazing and the best we would see, as there are no rhinos in South Luangwa.
Each animal that we saw was a very special sighting. Instead of seeing a pride of lions, we saw one solitary lion asleep in the sun. He was a lovely male lion (see quote below) and he opened his eyes to look at us before drifting back off to sleep.
We saw the buffalo grazing, one in a bush and the other in the open. As I recall from a previous safari trip in the Masai Mara, there were so many buffalo they were everywhere! Therefore it was quite strange to see just a couple here, but I'm sure as the trip continues we will have the pleasure of seeing many more.
We were so fortunate to see a leopard on our drive. Leopards are notoriously difficult to spot in game drives as they often hide up trees and are nocturnal. Our guide spotted the leopard in the tree and stopped the vehicle. We saw it do a huge stretch and yawn, and then it was off, down the tree and into the bush. The other 4x4 carrying the other half of our group was not as fortunate to see this.
The elephants were enjoying grazing, and the mother got quite protective when we drove near, so the atmosphere was a little tense!
We also saw both of our favourite animals - James was hoping for hyenas, which did not disappoint. There were 3 of them and they were so close to the back of our vehicle where James and I were sitting - it was amazing and James was able to get the shots he was after.
My favourite is the giraffe, followed closely by zebra, so I was blown away when we saw them grazing together! I got a great shot of them both together, certainly one for the wall when we are back home!
On the evening game drive we stopped for a break at the lake in the game (Luangwa River) where we were given orange juice and popcorn. There were so many hippos in the lake, and you could spot them as they just look like brown mounds in the water. in a waterhole nearby, we saw some hippos fighting! They fight with their mouths and have huge teeth, it was pretty tense to watch!
And then the best part... I finally got to see some crocs! You could see their eyes and heads pop above the water if you were quick! I was visiting the 'Bush Toilet' (peeing in a bush) when James saw it the first time, so I then had my eyes peeled waiting for it to emerge again when I returned.
The rest of the evening game drive was packed with animals. When driving through the park we suddenly saw about 50 impala run past our vehicle, and about 30 seconds later some more ran past, getting separated as they ran past trees, a waterhole in the park and even our truck. We all waited in silence, wondering what would follow, and low and behold it was a pack of painted dogs (also known as African wild dogs). These dogs are native to Africa, and are not in all game parks, so we were fortunate to see them anyway, but very lucky to have seen them in action! The dogs sniffed for the impalas' tracks and then ran on. We followed behind, hoping to see a kill, but the dogs slowed down, and a few of them just lay in the road chilling in the African sun! We left them to it and changed direction, when we were able to see so many other wonderful animals, including Crawshays zebra, hippos and spotted genets.
The whole day had been amazing and on the drive back we were all in high spirits. However, it turned out that the drive out of the game park would be the highlight of the whole day. As we were leaving the park, we saw an elephant on the road coming straight towards us. We stopped the vehicle, and it still just came straight towards us. It came right up to our 4x4, perhaps less than a meter away. I can honestly say that my heart was in my mouth, and I don't remember breathing throughout the whole experience. It stopped and looked at us for what felt like an eternity and then carried on walking. It was amazing, albeit darned scary! The game drivers don't carry weapons and if it had approached the vehicle and started to rock it I'm really not sure what would have happened! James was on the seat on the edge of the vehicle and I was sandwiched in the middle, so technically I was safe…!
Between the morning and evening game drive, I rationed my money and bought myself a chocolate brownie from the restaurant at the campsite. There were many monkeys living in and running around our campsite, one in particular caught my eye as it was limping when on all fours, it appeared he had hurt his left hand. I had had one small bite of my brownie, when the cute limping monkey came down a nearby tree and straight towards me. He looked me straight in the eye and came over to me, and braisendly took my brownie from my plate. James's reaction was the best, as he stood up straight away, and shouted "oi, no!" He then started chasing the monkey, shouting "Come here!" It was hilarious, as I have no idea what he would have done if he had got the brownie back from the monkey, I certainly wouldn't have wanted to eat it! The monkey climbed up the tree and ate my brownie, whilst staring me straight in the eye. The waiter then told us it was likely he got his hand injury from trying to steal some very hot food and had been burnt. I was much less sympathetic than I normally would have been after that!
Zambia has been spectacular. We were both left with such an adrenaline rush after our elephant encounter, it is by far the most outstanding experience of this trip until now, and we are looking forward to many more.
Quote of the day:
"Is it a female lion?"
Truck mate Katherine, whilst we were all watching a fully grown male lion, complete with mane.
Quote of the day:
"Oi you! No! Come here!"
James McGlone, when a monkey jumped on to our table and stole my nearly whole chocolate brownie.
Diary Photos
---