2017 Year of Fun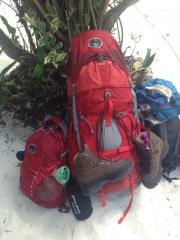 3rd Jan 2017 - 8th Jan 2017
Zanzibar - Swahili for 'The Island of Food Poisoning'
On 3rd Jan, we ventured over to the other side of Zanzibar island to start our overland tour. We met our tour guide MJ in the hotel in Stone Town and had our pre-arranged welcome meeting. We had a quick explore of Stone Town and ate some weird cheese pizza, before joining the rest of our group for dinner. The group we had joined had been together since Nairobi and had seen the gorillas and been on safari together. There was another new couple and a couple of solo travellers joining the group the same time as James and I, so it was comforting to know we were not complete outsiders!
The following morning we went on a Spice Farm tour. We had a tour guide take us around the Spice Farm and it was incredible to learn where so many spices came from. We were told to smell different leaves and guess which spice we thought they made. We even saw a tree that produced antiseptic sap. You could rub the sap straight onto a wound to heal it.A highlight of the day was seeing a local chap climb to the top of a coconut tree using just a bit of rope around his feet as support. To warn people under the tree that coconuts would be falling he sang the coconut song, all the way up to the top and whilst cutting coconuts. It was a song in Swahili and went on for a while, so if you're peckish for a coconut in Zanzibar and there are none already cut down, there really is no quick fix!
After the tour, we headed north to the pristine beaches of Nungwi, where we spent the afternoon having a walk along the beach and drinking some beer with our group. Having seen the beautiful clear waters we decided to organise a snorkelling trip for the following morning. A huge group of us all went for dinner that night at what looked to be a lovely restaurant along the beach. However, in the small hours of the morning, I was violently sick. After spending much of the night on a chair in the bathroom it was apparent that we wouldn't be going snorkelling! James was sick not long after, and together we spent the day running in and out of the bathroom whilst watching films on our laptop. It was comforting to know that we weren't the only ones to have been sick from the restaurant, however we certainly were the ones suffering the most. To look back on this now, we are very pleased that we had air conditioning, a toilet within crawling distance and we were in a bungalow not a tent! The following day, a mini bus drove us to the port in Zanzibar to get a ferry over to Dar es Salaam (mainland Tanzania). By this point James had pretty much recovered and was able to stand on the deck and enjoy journey. I was indoors, with my head in my hands and a sick bag at the ready!Arriving in Dar es Salaam was pretty chaotic. It's somewhere that I would like to observe for a week and then come up with a plan on how to make it run more efficiently. The fear of being sick however, kept me sitting at the side whilst James located the bags.
We regrouped and then together found the Intrepid truck, which was waiting for us near the arrivals. This truck was to be our home for the next 39 days. When we got on the truck it was great to see who was actually on the rest of the trip. We met DeArne and Matt, a couple from Tasmania who were sitting on the table opposite us on the truck. I had to apologise that I felt like I was dying, the words "I'm normally I'm a lot more fun" were used! There are 18 of us on this leg of the trip, with our tour guide MJ, our driver Ben and our chef Peter.The following days went by as a bit of a blur, with me barely touching food or being able to drink a lot of water. A fond memory is being handed a bottle of Coke by James, and it tasted like the greatest thing on earth.
Days were spent travelling on the truck and pitching our tents when we arrived at each campsite. The drive through Tanzania was very interesting. We went from a built up city to vast fields of sisal and then on to moutainous regions of farmland and bush. James was extremely excited as we entered the Valley of Mbuyu or the Valley of Baobabs. As we streamed through landscape after landscape we saw hundreds of little villages and locals who were equally interested in the Mzungus (white man/ traveller) as we were of them. I would describe it as the atypical infrastructure when you think of Africa. Small villages, possibly not even on maps. The new roads have made it easier for villages to gain access to water, but it's still far cry from what us in the Western world would recognise as a village. James noticed that there were green crosses painted on many of the houses by the side of the road. MJ told us that this means that these houses are soon to be destroyed. They have been built on land owned by the government with no prior planning permissions, and in the next year they will be destroyed. The families inside them would not be rehoused and would simply be left homeless. The crosses went on for what seemed for ever.
Next stop is Malawi where we will be camping next to Lake Malawi. We have high hopes for seeing a crocodile, although our Australian friends are less enthused as they are commonplace back home for them. Looks like it will be a hunting trip for 2 then!
Quote of the day:
"That chicken looks like it would f*ck you up"
James McGlone, 04.01.2016, during the Spice Tour in Zanzibar
Diary Photos
---