2017 Year of Fun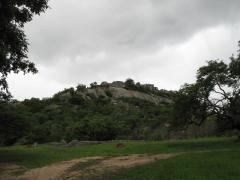 16th Jan 2017 - 23rd Jan 2017
Zimbabwe
Zimbabwe has absolutely blown us away.
On the afternoon that we arrived, we were taken on a tour of The Great Zimbabwe, a ruined city that was the capital of the Kingdom of Zimbabwe until 15th century. The hike was great, albeit a little dangerous as it was chucking it down, and some of our truck mates were in flip flops on steep cliffs…
We had the opportunity to go on an optional walking safari, which was 100USD. We didn't have high hopes for the day, as we were questioning how close you can really get to animals on foot. The day was outstanding, and the fact that we had no expectations made it even better.
A chap called Ian came to explain a bit about what he does with the rhinos and how they are endangered. There are about 29,000 rhinoceroses left in the wild today; this mainly consists of the southern white rhino. Poaching is so out of control in Africa, he explained that there are armed guards roaming the park protecting the rhinos. The majority of poachers caught would prefer to fight when caught rather than be arrested and face a Zimbabwean prison, which ultimately ends up with poachers being shot, killed and left for the scavengers to clean up.
Rhinos are being poached for their horns, which are usually shipped to Asia and sell for up to $300,000. It is medicinally used by men as a form of viagra, as they believe that this will enhance their sexual performance and encourage growth, like a rhino. Which it doesn't. More recently, people in Vietnam have been snorting it. Ian explained that this doesn't actually give people a high, it's just seen as a sign of status and wealth. Ian said that to get the horn off the rhino, poachers are killing the rhino and taking the head with them to remove the horn when outside the park. He would prefer to cut off the horns and sell them to Asia, which is completely harmless to the rhino and the rhino doesn't need its horn as a function. This means that the rhino would still live, it can still be used in Asian medicine and the money made can go back into conservation. Currently in Zimbabwe, by law they have to cut off the rhino horns and give it to the government for safekeeping. But it isn't known what happens to them after that.
We drove about 10 minutes into the park, stopped the jeep, and followed Ian in silent single-file. Seconds later, we were face to face with 3 rhinos, just chilling out together. We stood there, jaws to the floor, just watching them, less than 5m away from us. While we were watching the rhinos and listening to Ian talk about (and to) the rhinos, we were totally oblivious to the 4th rhino which had managed to flank us and appear out of the bushes less than 4 meters away. James very swiftly moved behind the rest of the group as he was waiting for Ian to yell "run". After a couple of seconds (which felt like hours) the rhino turned and walked back towards his friends, and every one could breathe. After that we all headed back to the jeep where Ian proclaimed that even his heart was in his mouth with the surprise appearance of the 4th rhino. After a lovely lunch that they whipped up from the bottom of the jeep, we hiked up a very steep mountain and up into a cave. The cave had paintings on the wall that dated back two thousand years. It was fascinating. We hiked up the rest of the mountain and were met with an incredible view. After a short descent, we were back in the jeep and he took us to a local bar to try the local beer. It wasn't the best beer we've ever had, but the locals were lovely and they tried to dance with us… which was fun for about 20 seconds, and then we were just dancing, in broad daylight, with locals gathered around watching!
The jeep had a tracker seat, which was located on the left of the bonnet, completely out in the open with no seatbelt. James and I both had a ride on it through the game park, and it was exhilarating! We were so close (and vulnerable!) to the rest of the game it really was a thrilling ride and a great way to end the day.
In the city of Bulawayo we had free time, and with the rest of our truck group we visited a street market. After some deliberation and haggling, we purchased a wooden chess set, which has the Big 5 as the pieces, and hippos as pawns. It's amazing and I love it, we just have the slight problem of carrying it around on our backs for the rest of the year... It does mean that if we ever get bored of talking to each other, or fancy arguing about something new, a game of chess is in order.
Throughout Zimbabwe, the truck was often stopped at police checkpoints. One time, a policeman walked round the truck and did a fist bump (mum - this is similar to a high-5) to all of us, and then he let us drive on. Another police officer came on the truck and asked MJ for a list of all our names and nationalities, then asked to see mine and James's passport, and then he left. However, one time, it was a lot more serious. A policeman got on the truck, and counted how many of us there were and then said "I am going to arrest you all." No one dared speak as we weren't sure what was actually happening. The policeman then told us that not wearing a seatbelt was a crime in Zimbabwe and that we were all being arrested. As opposed to going to jail, we all had to pay a fine of 5 USD. Still none of us said anything, until MJ took him off the truck to discuss further. MJ told the policeman that he would pay the fine, if correct paperwork was completed. I shan't go into the politics of Zimbabwe here and will leave you to draw your own conclusions as to the legitimacy of our situation, but MJ handled it very well, and once he was back on the truck, we all put our seatbelts on, and let our hearts return to normal speed.
The highlight of Zimbabwe was always going to be Victoria Falls, and it exceeded all expectations. We had a full free day in Victoria Falls, where James and I went hiking inside Victoria Falls National Park park. There is a clear route of where to walk, and the first area to see the Falls was amazing; we were absolutely in awe. However, each opening to the Falls on the route presented an ever better view of the Falls than the previous one, and it wasn't long before we came face to face with the main part of the Falls. There are no words to describe it that would do it justice. It really was breath-taking, like nothing I could have prepared myself for.
Most of our group finished at Victoria Falls, with just 8 of us carrying on to Cape Town. We had a sad farewell dinner with our full group, complete with some African singers and dancers at the restaurant, making for a great send off.
The next day, James and I did a full day canoeing trip on the Upper Zambezi, the river above the Victoria Falls, and we absolutely smashed it! We only argued once throughout the whole canoe ride, and it was nothing to do with actually canoeing, he told me that our guide couldn't find any hippos that normally lived in that area so one could pop up right next to us at any time. He basically walked himself into an argument with that one.
We canoed close to the bank when we were going through hippo territory, and we could see many of them in the water, just meters away from us. Not long into the trip, the guide saw a solitary male hippo unexpectedly emerge from the water, and we had to canoe very quickly to the bank and get out of the water. Male hippos get kicked out of the group by the dominant male as each pod of females only has one male, which was why he was such a surprise to see! This poor adolescent male is on his own, and when he grows he will return to the group and fight the male for the territory and females in the pod.
The Zambezi was so peaceful, and we were the only ones on the river that we could see. However, we did have a very scary moment, when the guides couldn't see any hippos in an area where they normally inhabit. I looked up on the bank and saw a huge butt with a little tale, and shouted that there was a hippo.
Our guide shouted "Quick, reverse!" as we canoed backwards as fast as humanly possible. We pulled the canoe on the bank, just as the hippo charged down the bank toward us at full speed and at the very last second bombed straight into the river. Hippos are herbivores, and therefore won't eat humans. However, they are deadly to humans when humans get in between them and the water, which this situation very nearly was! It was an immense, albeit scary experience which only left me wanting to get even closer to what was fast becoming my new favourite animal. Shortly after, the guides led us ashore and did us a bbq from scratch. We had some delicious chicken and salad, before getting back in the canoes and doing another hour along the river. All in all we canoed over 8km, and although a costly experience, it was worth every cent.
The following day we met the people joining our group and coming with us all the way to Cape Town. There are now 16 of us in total that will be going to Cape Town. With people leaving and new people coming there has been a change in the group dynamic, and it's almost like it's a completely different trip altogether. Looking forward to what the next chapter of our African adventure has to offer!
Quote of the day:
"Have you heard of Robert Mugabe?"
"Who? Robot Mugabu?"
Truck mate Erin
Quote of the day:
"MJ, when do we get our passport stamped?"
James McGlone, when we had just spent 3 hours in immigration getting our passports stamped in Zimbabwe, to wind MJ up.
Quote of the day:
"Holy sh*t, the sky is blue here!"
James McGlone, when looking out the window coming into Victoria Falls 19.01.2017
Diary Photos
---