2017 Year of Fun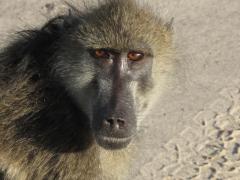 23rd Jan 2017 - 9th Feb 2017
Botswana, Namibia and the end of the tour
From now until the end of the overland tour, we just have Botswana, Namibia and South Africa to visit. All three countries have different immigration structures, as British citizens we do not have to pay for visas into these countries, which is amazing news for us - as up to now we have paid nearly £400 for visas alone!
First stop was Botswana, where we had an early game drive around Chobe National Park. Chobe is well known as one of the best wildlife parks in the world, and is particularly famous for its vast amount of elephants. As with every game drive, it was tense and exciting to see what animals we would encounter. Whilst the game drive was generous in showing us vast amounts of impala, it didn't really show us much else. In the afternoon however, we took a cruise along the Chobe River, which marks the perimeter of the park, and it was like looking on into a different game park completely. From the moment the boat left the dock, we saw crocodiles and hippos. About half way through the tour, we saw elephants, then more elephants, and then some more!
On the other side of the boat, we were fascinated to see 2 juvenile giraffes, fighting. James and I have seen this in Attenborough's Africa documentaries, where giraffes use their necks to strike each other and the winner claims the territory and herd. We were told that the fight we were watching was just play-fighting, but nevertheless it was pretty awesome.
Once the boat had turned, I saw the greatest sight of all, a fully-grown male crocodile basking on the bank. We must have spooked him as he then waddled quickly into the water. I caught it on camera, and these are images for our wall in our new house. But as James is a Photographer and it is his job to provide pics for the blog (I can't do everything!) the crocodile pictures on this blog are his.
Further along, we saw a bask of crocodiles. A boat ahead of us told us we had just missed a kill - a thirsty impala having a risky drink met an adult crocodile, and after being dragged into the water and killed, it was shared among the group of crocodiles - it was harrowing, but fascinating.
The next stop was the Okavango Delta, which covers up to 15,000 square kilometres of Kalahari Desert in northern Botswana. To get to the Delta, we had to cross the Delta's Panhandle, which meant all our group, including our truck had to get on a small ferry. I cheekily asked to join them up in the control room to see how it all worked - the man let me play with the ramp controller, and I watched the ramp lift up and down as we were crossing the river.
In recent months the Okavango Delta has been completely dry, and our guide MJ was worried there would not be enough water for us to visit the Delta as planned. However, all the rainy evenings, nights and mornings that the group has been moaning about (putting up or down a tent in the pelting rain really isn't fun for anyone) had all been worth it - the Delta had water, and it meant that we could do the most amazing activity - ride on a mokoro boat to a remote island in the Delta to spend the night. A mokoro is a dug-out canoe, and is controlled much like a punting boat that you see in Oxford, but it is without a doubt a lot harder, relying on stomach muscles and very, very good balance. Each mokoro came with a driver, so we just had to sit back and enjoy the tranquil journey. The remote island was exactly that, there were no human inhabitants, just animals (we didn't see any lions, but we certainly heard them roaring!). The mokoro drivers were our guides for our time there, and they dug us a long drop toilet (basically they dug a really deep hole) about 20 meters from where we had pitched our tents, and when you needed the toilet you took the spade with you, which you used to cover your business in the hole with some earth. When you returned, you would leave the spade in the middle of the walk way. The spade pretty much acted like an 'engaged' sign, if the spade wasn't there, you weren't to go further into the bushes.
We went on a mokoro safari, where we came within meters of a pod of hippos. I counted 30 hippos, but we were told that you should always double the amount you can actually see to get the real amount of how many hippos are present. Hippos stay in water during the day to keep cool, and can stay under the water for up to 8 minutes, so you can never really be too sure where hippos are. The mokoros took us to another island in the Delta where we did a safari walk. The guides led us in single file through the island, trekking for animals. We saw warthogs and elephants, and tracks of a stealthy lion, but the lion itself was nowhere to be seen. As we were on a walking safari, I'm not sure this was a bad thing.
In the evening, our guides made us a fire to sit around, and they graced us with traditional songs and dances. They asked us to reciprocate with a song and a dance, and the best one we could collectively come up with that the majority of our group knew, was the hokey cokey, or as the australians call it, the 'hokey pokey'(?!)! There was quite a language barrier, so they definitely didn't know what the song meant, but they were happy to get involved and put their left foot in, then out, then in and out, then in and out again, and subsequently, shake it all about.
The night ended with our guides singing the Okavango Delta's National Anthem. It brought a whole new level of tranquility, knowing we were literally in the middle of nowhere, with great company, listening to a lovely, humbling song. After our night in the Delta, we were taken in the mokoros back to our campsite in Umvuvu, where we were very happy to see proper toilets and showers!
Back on mainland, we were given a lesson in how to operate a mokoro. I had enjoyed a rare hot shower in the morning and even treated the group by washing my hair, so I was adamant I wasn't going to fall in. It required a lot of balance, confidence, and the thing that I lack the most, a good sense of direction. In summary, I didn't fall in, but I sucked. Of course, James was a natural, and managed to take his guide for a lovely little ride. His parking needed some practice though, as it looked like a 10 point turn when he tried to moore his nokoro at the end! My guide was just happy I had managed to stop going round in circles!
That evening we had a lovely dinner of sausages in buns and some fit 'lamington' cake to celebrate Australia Day, our Australian truck mates had gone to great lengths to involve us all in Australia Day celebration, as if we were in Australia itself. We were still in the Delta that night, and were told that it was common for animals to roam around the tents. Another exciting night in Africa, and an unnerving sleep thinking that a lion would just unzip our tent and just come straight in.
Namibia
The following day we crossed the border into Namibia. Namibia is on high alert for Ebola, and because of this there was a lady taking all of our temperatures at the border to make sure we weren't bringing the disease into the country. It looked like a very fun machine she was using, and I asked to try it out on her. It was like a gun; you aim the red light at the person's neck and their temperature comes up on a little screen. I tested a few people's temperature and when my giggles had subsided I asked the lady what would happen if my temperature was too high. She said she would kindly call me a doctor, but thankfully it had never happened before.
At our next campsite we had some free time, and a group of us walked along the main road and found a Sports Bar. The bartender didn't have any drinks to serve us, but she did have a football pitch, complete with goalposts and children playing. The next thing we know, about 15 little kids were running towards the pitch wanting to play football with us. I sat and watched, whilst James got stuck in and played, for a few minutes. James and I left our group battling it out on the pitch, to go back to the campsite and look for crocodiles whilst enjoying a cold beer.
In Grootfontein we visited the San Bushmen, the oldest ethnic group in Namibia, having inhabited Southern Africa for an estimated 20,000 years! Today around 30,000 of them live in Namibia, but only 2,000 of them still follow a traditional way of life.
The Bushmen communicate by using a series of clicks, they taught us how to say a few things, but we either couldn't make the right noise, or instantly forgot them. They took us on a tour of their village and showed us how they get water from trees, use different plants as medicine, and he even dug deep to find some what we know today as 'deep heat' for one of our truck mate's sore muscles from the football the previous day. It was fascinating to see their way of life. The San people are very small, and this is down to their diet. They are all naked, which made it really hard for us to know where to look! They sang some traditional songs for us and danced around a fire. I bought a necklace they had handcrafted and James bought himself a bushman knife, which I'm sure won't be needed for the rest of this trip, but that's not the point, apparently.
The next part of our journey was on to Etosha National Park. Our truck was able to drive through the national park, so just driving to our campsite at one side of the park was a gamedrive in itself. We went on an evening game drive in a 4x4, and managed to see some lions mating. The event was very short, and the female letting out a huge yawn was a sign that it also wasn't that enjoyable.
With each campsite we arrived at, it was clear the terrain was becoming drier and drier and by now we were camping in the desert. At Spitzkoppe, in the Namib Desert, we were taken on a hike to see some original cave paintings. These paintings had been a lot more exposed to people and animals than the ones at Motopo in Zimbabwe. However they still were impressive and it's fascinating to see how bushmen used cave paintings as a form of communication.
Some of our group decided not to come on the guided tour, and to climb Spitzkoppe mountain instead. They were told that the hike would take 6 hours and they were advised not to climb it, but thinking it would take just 30 minutes, they started to climb at 5pm. The rest of us enjoyed a beautiful sunset on a neighbouring mountain and came back down for dinner. During dinner we joked that the other group had got lost, and sure enough, as we were doing our washing up in the dark, we saw torches flashing halfway up the mountain. MJ communicated with the group that as they were so far off the track they should be on, they should stay put and he would get help. This involved a lot of organising from MJ's side, and as two guides started the ascent up the mountain at around 10pm, all we could do from the bottom of the mountain was watch torches flashing and hope that the guides would get to our group safely but quickly. Thankfully, the guides and group members were down the mountain safely by 2.30am, and no one had been attacked by the leopards in the area.
The next morning we went on to Cape Cross - a small headland in the South Atlantic, one of the largest colonies of Cape fur seals in the world. Even though it was pretty stinky, it was fantastic! There were seals everywhere, and we were able to get pretty close, so we managed to get some great shots.
We journeyed on to Swakopmund and James and I instantly fell in love with this germanic, coastal city. Here we stayed in chalets of 4, I stayed with 3 other girls from our truck and James stayed in a batchelor chalet. Having just spent the last 30 odd days sharing a two-man tent, this was a welcome break! We went for dinner on the first night there for Maria's birthday, and ended up dancing the night away in a Namibian disco. We did quad biking the following morning in the Namib Desert, which needless to say, I sucked at. James had a manual quadbike and was able to get to speeds of 58mph! And fishtail the hell out of the quad! I felt like I was doing 100mph, but James kindly reminded me that it was probably more like 10mph, as I certainly wasn't the fastest in the group…
We had a romantic picnic on the beach for lunch, when suddenly James became very itchy. When we left the beach and ventured back into town, it had become apparent that he had been savaged. The pharmacist told us he had been attacked by sand fleas, which tend to single one person out and stay away from everyone else. In this case, they liked James, and were not at all attracted to me. James stayed in that night to avoid his bites bursting, whilst the rest of the group were taken to some bars in the township, where we had a great night. We arrived at a bar and were the only white people there. We mingled in well with the locals - I even had a dance-off with a lady in the toilets, and she was impressed with my 'white girl moves' with my 'small ass'... Probably the best compliment I'll get all year, so I'll take it!
James and I had to cancel our bike tour of Swakopmund the following day as his feet had swelled up so big that he couldn't wear any closed shoes (this was obviously hysterical, but only now am I allowed to laugh at it).
The most famous part of the Namib Desert is its vast dune fields, and here we were able to climb Dune 45 - the most photographed dune in the world. It was huge, and really quite steep to climb. We climbed it first thing so that we were on Dune 45 for sunrise. It was a truly awesome sight. While others in the group walked down the dune the way we had come up, I am immature and slid down the dune on my bum. It was harder than I expected, and when ¾ of the way down, I lay horizontally on the dune and teddybear rolled down. It was a lot more fun than I remember it being as a child, and having sand in every oraphis for the rest of the day was totally worth it! We visited the Sossusvlei and the Deadvlei, which is home to 900 year old dead trees. which were both as amazing as expected - the pictures just don't do them justice!
Next stop in Namibia was Fish River Canyon - the second largest canyon in the world after the Grand Canyon. Neither of us have ever seen a canyon before and weren't really that sure what to expect. This is the second time on this trip that that way of thinking has worked in our favour, as Fish River Canyon was spectacular. We hiked around it (not in it!) and when we reached the end we had a lovely surprise waiting for us - Peter, Ben and MJ had prepared cheese and wine for us to enjoy whilst watching sunset over the canyon. It was out of this world, such a great experience and a wonderful view. It was very overwhelming and a sad realisation that our overland adventure is coming to an end.
The next night was spent camping by Orange River, and we went on a canoeing trip along it the following day. Our final full day on the trip was spent driving to our campsite, which was situated in Klawer, South Africa on a vineyard. Naturally we did some wine tasting and spent time appreciating the fine wines produced there.
Our overland tour ended at lunchtime upon our arrival in Cape Town. The truck parked up outside the hotel where MJ's next tour would start (the reverse itinerary to what we have just done). And there we were, on our own with nothing more than a hostel reservation, our massive backpacks, and only each other for company. The group tour was over, and our independant fun was just about to begin.
Diary Photos
---