2017 Year of Fun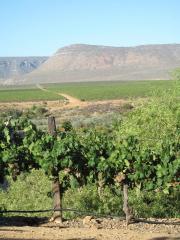 9th Feb 2017 - 7th Mar 2017
Cape Town - Durban
Cape Town
Although our tour finished upon arrival in Cape Town, the fun with our group was far from over. After checking into our respective hostels, 7 of us met in town in the afternoon to climb Table Mountain together. Table Mountain is a well-known mountain overlooking Cape Town it's aptly named as when the cloud is low over the mountain it looks like a tablecloth. MJ told us that if it was a clear day we should climb it, because as soon as the clouds come out, visibility is so poor you can't climb it. However, Cape Town was experiencing a heat wave, making climbing a mountain really, really tough. The 1hr 45 minute slog was worth it; the view from the top was immense. After a cooling ice cream, we took the cable car down and met our tour group for a fond farewell dinner.
Cape Town is great, and James and I had a lot of fun exploring the town together. We never had any problems security-wise, but some of our tour group were mugged, twice in two days. We had previously booked shark cage diving in Gansbaai, courtesy of STA Travel as we booked the tour, flights and the Baz Bus with them. Gansbaai is famous for shark diving, and divers see sharks '100% of the time.' However, just our bad luck, the heatwave had brought orcas to the area, who had scared off the sharks. Divers went down in the cages and saw no sharks, but smelt like fish upon their return as they still chummed for the sharks. Our diving was cancelled because of this, giving us more time to enjoy Cape Town.
The following day we were booked on a Cape Peninsular Tour, which took us on a ferry to Duiker island to see fur seals, to Boulders Beach to see the penguin colony, a bike ride through Cape Point Nature Reserve, to the Cape of Good Hope, and Cape Point, It was pretty fascinating and the day was a great success. And James finally got to see the animal he's been waiting to see all along, the elusive Eland.
Shark diving was cancelled again, so we rebooked for a few days later, hoping the orcas would have left and the sharks would be out in force.
Our lovely friend Kim had recommended the Baz bus to us, a hop-on hop-off bus that goes daily from Cape Town to Durban. Providing you're staying at hostel recognised by the Baz Bus, it picks you up and drops you right at your specified hostel. Through STA we bought a one way ticket, allowing us to travel the coast and the famous garden route at leisure, before arriving in Durban to stay with our friend Zita. Our first Baz Bus experience was when it picked us up at 7:30am from our hostel in Cape Town, taking us to our first destination, Stellenbosch.
Stellenbosch
Stellenbosch is the start of the garden route, and it famous for its wineries and wine tours. Obviously we were well aware of this, and booked on a tour to pick us up at 10:30am on the morning we arrived. The tour was amazing. There were 8 of us, and we were taken to 4 wineries throughout the day. It was valentine's day, and as we were the only couple on the tour, the guide picked me to do a sabrage, opening a bottle of champagne with a sword! This was really cool, and it really works! The second winery paired delicious wines with even more delicious cheeses, and we purchased some to enjoy later that evening. We were given lunch (which was a necessity as our stomachs had not yet been properly lined!) and headed to a very beautiful vineyard. The fourth and final winery of the day was the best, as we paired wine with chocolate! Having been drinking since 10:30, we had a relatively early night, but were woken up in the night to a couple having a very intimate yet public time together… currently so excited for 11 more months of shared dorms….
Mossel Bay
Mossel Bay is well known for its beaches and shark diving. The company in Gansbaai were still not taking any divers out, so we managed to book with another company in Mossel bay, which takes divers out to a different location. The location was seal island, literally an island in the sea covered with fur seals. As soon as the boat moored, we could see the sharks in the water on the lookout for a weak seal. There were 16 of us on the boat, and they split us into 3 groups of 6 to do the dives. 6 people can fit in the cage at one time, and when they called out that they needed one extra person in the first group James volunteered himself. No word of a lie, he said "You don't mind if I don't dive with you, do you?" Obviously, I 100% minded - if I was going to be in shark-infested waters, he was coming with me! We were in the third group, which meant that when the first 2 groups were diving, we were at the top of the boat looking down at the sharks.
When the time came for us to dive, I was petrified. James was totally calm, so he went in the cage first, and I followed in shortly after. They use the breath-hold method, which is basically going under the water to see the sharks by holding your breath. You are in the cage holding on to the inside bars (that small bit of info is very important), and they throw out the bait. When a shark swim towards the bait they shout "Shark on the right" and we had to hold our breath and put our heads underwater to watch the action.
As soon as we saw the first shark swim towards us and I realised I was completely safe I started to relax, and it was the best 20 minutes of the trip so far. The sharks came so close to the cage we got to see them in so much detail.
One small detail that the guides didn't mention is that the cage doesn't sit flush against the boat, so the back of our cage was exposed to the sharks too! We quickly learned to keep our feet fully in the cage at the back and not let them hang out.
The first fascinating sight was when we looked below the cage and saw a humongous shark swimming right underneath us. It was a darker colour than the rest and noticeably bigger. White sharks can grow up to 6.5m, and we were told that this one was probably only about 4.5m, but it was still ginormous. It was such a thrilling experience and I would recommend it to anyone (maybe not my sister Morag, who has a fear of sharks and was very pleased I only told her we had been diving after the event!).
Our hostel in Mossel Bay was on the seafront in a converted train. Our carriage (room) had 16 bunk beds in it, and we fell asleep and woke up to the sound of the waves.
Having learned my lesson from doing horse riding in Malawi just because James wanted to and absolutely hating it, I had an afternoon on the beach whilst James went to see some of the oldest caves in the world to have been inhabited by humans. Apparently it was very fascinating (for James) and he learnt a lot about what had been found by the archeology team working on site.
Plettenberg Bay
Our hostel in Plett was our favourite by far, not only because we upgraded to a double room to finally get a good night's sleep, but because it was so relaxing, with comfy hammocks (I am so getting one when I come home!) and a BBQ each night that we could cook our own dinner on. We didn't do any activities in Plett, we used it as a base to book the rest of the Baz Bus trip, relax and walk along the lovely beach and lagoon. We even had a cheeky ice cream sundae!
Storms River
For a town that was so unbelievably quiet and small, we managed to get a lot done in Storms River! The hostel that we arrived in was disgusting - 2/3 of its toilets were blocked and wouldn't flush, and there was no running water to wash my hands! Luckily, we were just 200m from another hostel, who were happy to take us in, and I was happy I could wash my hands.
Our first activity in Storms River was the Bloukrans bungee jump - the highest commercial bungee jump in the world. We held back doing the bungee in Victoria Falls with our friends so we could bungee jump here, so there was no backing out, even though James came pretty close...
It's a good time to mention, that despite being willing to fight off monkeys and dive with man-eating sea creatures, James has a fear of heights (I feel sort of bad that we've been together nearly 4 years and I just found this out…?) We've both independently done skydiving before and assumed it would be as tranquil and beautiful as that… We couldn't have been more wrong. There were 8 of us in our time slot, and once we were all harnessed-up, they walked us over to the Bloukrans bridge, then on a small rickety bridge that runs alongside the Bloukrans bridge. Up until this point I was absolutely fine and really excited for the jump, as I assumed I would love it. However, the bridge was actually horrifying, and my nerves went from hero to zero, and I was surprisingly very relieved to arrive at the bungee jump platform. We all had our weights in kgs written on our hands (in black, indelible pen, what every girl wants on show...) and they based our jumping order on this. Other than the reasoning that they went heaviest to lightest (I went last, so makes sense, right?) there was no visible logic to the order, and we only found out what order we were going in when it was time to jump. The 6 people in our group jumped flawlessly, and all came back up saying how much they loved it, I assumed that James and I would experience much of the same.
First they call your name for you to take a seat for them to fasten your leg straps and then they walk you near the edge and explain you need to jump after the "3 2 1" countdown and on the word "bungee". They then carry you by your arms to the edge of the bridge and start the countdown. James was the penultimate jumper, and he was visibly petrified. When they shouted "3 2 1 bungee!" James shouted "No, I can't" and didn't jump! The nice chap then whispered that that was just a test and shouted "3 2 1 bungee" again. This time, they gave him a gentle tap, and James fell so far over the edge that he didn't have the option to back out. He hated every second of it and he tried to fly by doing some crazy looping motion with his arms. The go-pro that he wore on his wrist documents his dislike for the jump quite well. However, because of his foul mouth, this video is not uploaded to the blog (mum - you're probably the only person actually reading this blog, and you wouldn't like what you'd hear).
Once you've jumped and you're dangling upside down in the air, some chap lowers himself on a chord, clips you onto his rope, then together you get pulled back up to the bridge, but on the opposite side that you jumped from. James came back up just as I was on the jumping platform. In my video, you can actually see him tell me it was great, then look at one of the chaps in the group and tell them that he hated it! I was calm right up until the platform, but the video shows me double-checking with the guys that I'm 100% safe, so perhaps I wasn't as calm as I thought.
Ever since I can remember I have had a recurring dream of falling, and some nights I wake up thinking I've landed on the floor, or my pillow. With this in mind, I shouldn't have done the bungee, it was my worst nightmare becoming a reality. At the platform I tried to do what they told us, just fall forwards and before you're horizontal, you have to push yourself off. I failed miserably at this and did a little girlie jump instead. A few seconds in, when I remembered I had paid for the experience and that I should be enjoying it, I opened my eyes. It didn't help me enjoy it any more!
When I had finished screaming and the chap came to collect me, even though I knew I wasn't, I felt very unsafe. I grabbed his leg and wouldn't let go (much to his disappointment "Ma'am, I'm going to need you to let go of my legs… please") until I was safely back on the bridge.
If you're a thrill seeker without a fear of heights or a falling recurring dream, then you will love bungee jumping, so if you fit that criteria, I definitely recommend it.
After a celebratory beer back at the hostel, we packed for the 5 day hike that we were embarking on the following morning.
Storms River is home to a well known hike called the Otter Trail, which we found out normally gets booked up over a year in advance. When we were told that there were no cancellations for that trail, we booked on to the Tsitsikamma Hiking Trail in the Tsitsikamma national Park, the 'garden of the garden route'. Hearing that for us to have the service of a car bringing our food and bags each night would be 800 ZAR per night (£50), we decided to carry all our own things, which included clothes and food, for 4 nights 5 days.
When we set off into the park, our bags were incredibly heavy. However, the more we ate along the trip, the lighter they became. We followed a route into the park, so each day we knew how many kilometers we needed to hike in order to reach our hut for the night. Each hut had 24 bunk beds, but we were the only people who had began the hike on that day, so each night at each hut we were the only ones staying there! We started our own fires and made our own dinner each night, enjoying it overlooking beautiful scenery. The park is home to many animals, including leopards, (which unfortunately we didn't see), baboons, (which we did see as they tried to steal our food most nights!) and snakes. James and I found sticks which we used as hiking poles, and on day two, I accidentally stabbed a puff adder with it when walking. It was coiled up in a bush next to me with just a little bit of his coil on the path. James reckons that with this behaviour, it was likely he was going to strike as I walked past him as puff adders are notoriously bad tempered and willing to strike without hesitation.
In total, we hiked over 50k in 5 days. Upon our return, we celebrated with a burger, milkshake, and a very well earned shower (and hair wash!) before getting on the Bas Bus in the evening to Port Elizabeth.
Port Elizabeth (PE)
PE is an obligatory stop on the Baz Bus. It arrives there at 10pm, and for those who want to travel on to Durban, the bus starts again the following morning. Because the Baz Bus doesn't run every day, we had a whole day spare in PE. We used this day to top up on necessities (toothpaste etc), to write and upload the blog (it's so hard to stop and write when you're having so much fun!) and chill by the pool. We got an early night as the Baz Bus came at 6:45 the next morning, on to Chintsa.
Chintsa
Our main aim at this point was to get to Durban as we were staying with our friend Zita from 2nd March. The bus from PE to Durban was approx 16 hours, so we used Chintsa as a halfway point to break up the travel day. However, because the bus doesn't run every day, we would be in Chintsa for 2 nights.
After a mix up with the room we had booked, they put us in a luxury room with a balcony overlooking the sea. It was gorgeous, and for the whole first day we just chilled out on the balcony, knowing that the second night we would just be in a standard room. The standard room the following night wasn't bad either, and after a relaxing stay, we got the bus at midday to take us to Durban.
Durban
We are currently in Durban, having fun with Liney, who I knew when she lived in London, and is a childhood friend of Zita.
Our next adventure begins in a couple of days when we fly to Moscow, which we will enjoy before embarking on the Trans Mongolian railway, through Mongolia and terminating in Beijing.
Diary Photos
---