2017 Year of Fun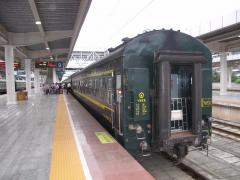 21st Apr 2017 - 3rd May 2017
Vietnam part 1
The train ride to Hanoi from Nanning in China was the last of our planned train journeys, and after 10 train journeys in 6 weeks we were not that sad about it. What we were sad about, however, was when we got to the China/Vietnam border the visas that we had paid for and printed out were rejected.
We followed the information on the gov.uk website and used the link they provided, but the problem was that on this particular border we couldn't use this visa. If we wanted to enter Vietnam on this visa, we would have to spend the night in China and come to the road border crossing (not the train border crossing) and try again. As it was 11:45 pm, this was not an option. We had no option but to ask them to ignore the paper visa, and issue us with a 15 day visa that is free of charge to British citizens, with which they obliged. Not only did it mean that we had wasted $40, but our plans to spend 30 days in Vietnam had been obliterated. This was really annoying, as I had already had a stress with our visas; for some strange reason I submitted my visa application with the incorrect name and it was therefore rejected (of course I spelt James's name correctly didn't I?). I had to get this amended and resubmitted, but it was still 'in progress' the night before the morning we were due to leave and I had to send a number of panicked emails to get it sped up. It was like I already knew the visa wouldn't work so I might as well not put the right name to spice it up a little...
There have been a few occasions when we have found it's the same price or even cheaper to get a double room than get 2 bunk beds in a dorm. Of course this option suits us much better - I am happier because I get a pretty much undisturbed sleep, which is very, very rare for me in dorm rooms, and James gets to do what he fantasises about each time we check out of a double room until we check into another: pack and repack our bags. Our double room in Hanoi was really central, right next to Hoan Kiem Lake and a great base to have when spending the whole day exploring the city. As with any new place, we spent the first afternoon exploring and finding places we want to explore further.
As you know, James has been incredibly disappointed to miss Lenin and Mao on our travels so far. Therefore seeing Ho Chi Minh was crucial. The queue to go into the mausoleum was gigantic and knowing that it shuts at 11am, I was fearful that I would have a crying grown man on me for the rest of the day. Thankfully though, it must be that they shut the queue at 11am, and those in before would get in for certain, I reckon I was actually happier than James was!
Seeing Ho Chi Minh lying in state was very weird; you're literally just walking round a dead guy. But it was pretty impressive to be looking at someone that had been so inspirational for a whole nation. James was very pleased to have visited, and that was the best part.
A top priority for Hanoi is a cruise to Halong Bay - thousands of beautiful islands in northeast Vietnam. We asked around a few travel agents to get an idea of the prices and to find what sort of trip we wanted, but ended up booking with the company Apricot Cruises directly. Booking directly saved us at least $30, and we put that money towards an upgrade to a deluxe room with an ocean view, and a fruit bowl. I very generously received some birthday money which we put towards this trip, which made it more special. Needless to say the trip was absolutely amazing and is a real must when you come to Hanoi. Aboard the cruise we had a delicious lunch and were then taken to a cave inside one of the islands. It was pretty spectacular. We visited a beach before getting back on the cruise ship for another delicious meal and cocktails. We were then shown how to do squid fishing, which James was infatuated with. We stayed up until nearly midnight hoping to catch a squid, but the closest we experienced was a squid touching the bait and then spraying his ink in the water, making a dark blue cloud in the normally turquoise water. It was disappointing we didn't catch one, but we later realised we wouldn't actually know what to do with it once we had caught it, so it didn't seem to be such a bad thing, and James was just happy with his ink spray, I guess you could just call us low maintenance.
The following morning we visited a floating Pearl farm, where we were shown the process of farming pearls from oysters to them ending up as necklaces or earrings. It was strange how other 'backpackers' were able to afford such wonderfully expensive souvenirs at the Pearl Island gift shop, leaving James and I to wonder if we were a little stingy when buying my mum a Chinese comb…
Back on the boat and we were given a crash course in spring roll making, which was very hard to go wrong with, and were very tasty.
Hanoi is a pretty vibrant city, but what struck us the most was how many white people there are. In every street and in every bar there are so many caucasians. This is a complete juxtaposition to our experience in China, where it sometimes seemed like James and I were the only westerns to have ever set foot there by the reaction of some of the locals. I guess that it is for this reason that it's so easy to get around in Vietnam. People speak English and everyone is happy to help (for a small fee, of course), a very different experience from the few weeks we had spent with their Chinese neighbours.
To maximise our 15 day stay, after a good few days in Hanoi we jumped a plane to Ho Chi Minh City. A bus between these two cities was our first option, but after a quick google search and reading many tourists' accounts of near-death experiences, we opted for a flight, luckily it cost just a fraction less than the 24 hour bus.
Our priority in Ho Chi Minh was to visit the Cu Chi tunnels - and did not disappoint.
The tunnels were small and intricate, built and utilised by the Viet Cong during the Vietnam war. If you don't know much about the Vietnam war like I didn't (don't worry though, James absolutely loved to share this knowledge on the subject, of course), it's definitely worth reading about. By all accounts it was very violent, and the tunnels were just a snapshot into the everyday lives of the Viet Cong. The tunnels were rigged with booby traps to prevent the Americans from entering. A few of these were still in tact, and our guide was more than happy to show us how they worked.
It was at the Chu Chi Tunnels that James got to fulfil his life-long dream of firing an AK47. It was pretty costly, but that was no issue for James (unfortunately it never is for James, which is why it's my job to look after the budget!). We bought a round of 30; James shot 20 and I shot 10. James absolutely loved it, and the guy thought he was pretty good and gave him some targets. Clearly the guy didn't think I was much of a shot because he said nothing to me… It was actually pretty hard and not the most comfortable experience I have had - the kick of the rifle was strong and the noise unbelievably loud. James fired off a few tester shots and then went automatic to finish off his rounds. Although he absolutely loved it, he's not stopped talking about when he can do it again, and at $60 it won't be anytime soon (but unless he reads this, he won't know that!)
So far on this trip we have met many lovely people and really enjoyed hearing other backpackers' stories and travel tips. The same way that when backpacking there is always one c*nt with a guitar (straight out of Inbetweeners, but we have found this to be literally so true in each and every hostel we have stayed in, and we have no idea why backpackers love to play the guitar?!) there is always at least one fellow backpacker on hand to ruin your fun.
Believe me when I say that we have met these fun suckers (keeping it clean, just for you Mum) everywhere, and they have taken on many different forms. A notable one would be the horny Chinese chap in the bunk below me in the hostel in Beijing, who enjoyed pleasuring himself whilst I was trying to sleep above him. Of course, I sadly didn't get any sleep during or after this event.
The most common form of fun-sucker we have met are those that rustle plastic bags at 3am in the dorm room, or go even further and repack their whole bag while the rest of the world (well, the people in our dorm) are trying to sleep. Another habit of a fun-sucker is having a full-on conversation at normal volume during this time, and another common one - banging around in their locker for something. Needless to say, we have never encountered any lockers made of foam or material, of course they are always metal. Just writing this is making me pretty hot with fury; the only way the situation could get any worse for us during the night would be for a lovely person to combine all activities, which we most unfortunately encountered one night in Ho Chi Minh, and of course, to make matters so much worse; he was British, of course he was.
He came in at 11pm and turned the light on. What a d*ck.
The light quickly went out, as did he, so we went back to sleep.
He came in at around 1am and started speaking at normal volume to his girlfriend. After an encounter of "excuse me, could you be quiet please, it's 1am and we are all trying to sleep" he quietened down and went back out, what a diva.
At 3 am, he came in again, but this time with a mate, which we later found out to be his brother. On went the light, up went the volume of their chat, and on went his ipad and a FaceTime call with his mother started.
Words were exchanged about how he was being pretty selfish and could he please turn off the light and his ipad and just finally let us sleep, but he got pretty aggressive, louder and more annoyed. I suggested that I would go and find the hostel manager as no one could sleep like this, and he responded by calling me a "grass". Not realising that people in real life actually spoke like that and believing it was more of an Albert Square thing, I said "Alright Danny Dyer."
I have now learned, that this was not the right thing to say.
He got right in my face and started yelling at me to not "disrespect him" (It was like he wrote the Eastenders script or something) when James intervened and told him to leave me alone. He turned on James and went to grab him, leaving him with marks on his chest. His brother then got involved, as did I, and it all ended before it began, but within seconds I got the manager in, who turned out to be nothing more than a 4 foot, 20 year old Vietnamese chick. She was tiny and shy and there was literally nothing she could do as she was too afraid of the drunk boys, who were actually pretty huge. She was also too afraid to get the police involved, and all the other beds in other rooms were full, so the most she could do was let James and I sleep in her room.
The reason we were in bed so early was that we needed to be awake for a Mekong Delta river cruise at 6am the next morning. Of course, with all the adrenaline pumping, we were not able to get back to sleep. The two chavs were like sleeping beauties the next morning as James and I left tired and grumpy for our Mekong Delta cruise. We felt better thinking that at some point they would start on the wrong people and their night wouldn't have ended as well as it did with us.
A trip along the Mekong is an absolute must. We chose a 4-day trip, which included a one night homestay on an island on the river, and involved a river border crossing going from Vietnam to Cambodia, ending in Cambodia's capital city of Phnom Penh.
Each day the cruise took us to a new place on the Delta and gave us an insight into the different lives of the locals living there. We were taken to where they make rice noodles and got to witness and get involved with the whole process. We were taken to a floating market on the Delta, which is basically where boats drive over to other boats selling items. If a boat was selling fruit for example, fruit would be hoisted to the top of the mast so that other boats could choose to approach and buy fruit, or keep driving along to another boat of interest.
One night we stayed on a small island at a homestay, which was a fantastic experience! The family we stayed with were so accommodating and fed us local delicacies, one that stands out is the deep fried Mekong river fish. The fish is about the size of a dinner plate and they deep fry it-scales and all- in a wok full of oil.
Upon serving, it is placed upright (like it's swimming) and sliced from spine to belly either side of the spines on its back. The meat is beautiful and light and literally melts in your mouth.
The family then showed us how to eat it 'like locals do', by getting rice paper, lettuce, rice noodles and chilli oil to make these amazing little spring rolls. This was the most delicious fish I have ever tasted (hating fish normally). Being happily excused from the washing up, for the rest of the night we relaxed in hammocks close to the shore of the Delta and eventually retired knowing that we had a lot of busy days ahead of us.
The highlight of all the trip was being taken in small canoe boats along the Delta, and we were just surrounded by lush jungle. It was absolutely amazing, like something straight out of my imagination, and it has since become my new happy place.
As mentioned, the boat cruise took us seamlessly through from Vietnam to Cambodia, and was by far the smoothest border crossing we have encountered to date. Leaving Vietnam was a sad moment for us, as although we had only had 15 days there we were both absolutely loving it. However, as always we were in high spirits arriving in a new country, and coming in by boat just added to the excitement.
Diary Photos
---