2017 Year of Fun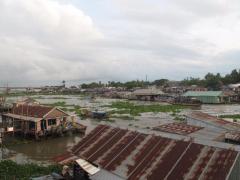 3rd May 2017 - 21st May 2017
Cambodia
Arriving by boat in Phnom Penh was pretty cool, despite the weather being anything but. Hot and sweaty, we couldn't find our hostel for love nor money, and of course, our first Cambodian argument erupted. On a wing and a prayer we somehow managed to stumble across a dirty, stinky building and we straight away knew we had made it to our hostel.
We try and eat out at one good restaurant in each place that we visit, not only to ensure we can sample the local delicacies, but also to have a bit of a date night too. Phnom Penh was no different and we found a delicious noodle and dumpling restaurant, and the food was fantastic. Since leaving Russia we hadn't really been able to cook our own food in hostel kitchens (with the exception of Shanghai where we had an apartment to ourselves). Because of this, eating out for 3 meals a day has become the norm, and therefore unfortunately marginally lost its appeal. There's nothing more I love when in London to go out for a pizza or cheeky Nandos, but by now in Cambodia we were a little bit 'over' eating at restaurants, with our budget forcing us to pick the cheapest item on the menu and potentially sharing a coke, if the meal was relatively cheap. The first thing we noticed in Cambodia is that the food is NOT cheap, we were paying around $6 for a main each. When typing this, I do realise that that is cheap when comparing it to a meal in London, but not so when there are two of you and you're hungry enough for 3 meals a day. Our second night in Phnom Penh saw our 4 month travel-aversary (it is totally a thing) take us to another great restaurant, number 2 cheap eat on Tripadvisor! However, as soon as we were back in our hostel, James had stomach ache. Whilst he lay on the bed I went downstairs to book our tour to the Killing Fields and S21 museum the following day, and our bus out of Phnom Penh to Sihanoukville the day after that, and then I jumped online to book accommodation for our first night. Of course, once I had parted with a hefty sum of cash for the above, the inevitable happened: James got worse. So much so that the following day we were not able to visit the Killing Fields, but I sweet-talked the chap at the desk and he managed to book us on the trip the following day, and on a bus for the day after that. But of course, he was so unwell my rearranging efforts were fruitless. Phnom Penh (PP) was quickly becoming somewhere we didn't like, of course it was just circumstantial, but we did decide we would even prefer to be looking for Paje than in PP (read our blog on Zanzibar and you'll understand how greatly we must have disliked PP)!
As soon as James was better and able to be on a bus that didn't have a toilet, we left PP and went to Sihanoukville, with the idea that we would return to PP when James was in full health and visit The Killing Fields and S21 museum.
We spent a couple of nights at Otres Beach in Sihanoukville, where we spent our days overlooking a lake sitting in swing chairs. We then got a boat straight over to a Cambodian island cambodia Koh Rong Samloem, an island that had been recommended to us by a fellow traveller we met on the Mekong tour, and it was amazing. The beach was golden and the sea turquoise, perfect for those who love to relax. Unfortunately this wasn't James and I, although we did have books to read (I am in the middle of The Beach by Alex Garland - preparing myself for Thailand in a few weeks!) and did chill out in hammocks with cocktails on the beach for an hour or 2. The three days that we spent on the island was at a place called Sleeping Trees, the attraction of which was that they had tree tents that you sleep in! Being like a child I got extremely excited and booked. This was a great idea at the time but 3 days and a tropical storm later, I was over the excitement. We used our remaining time to go exploring around the island, snorkelling in the sea, swimming with all kinds of fish and playing Skip-Bo.
On the ferry on the way back to the mainland we met a chap who was leaving the island purely to get cash out on the mainland then to come back to the island to continue is partying. He told us of some girls at his hostel who gave a local man who was going on a day trip to the mainland their bank cards and pin numbers to him to get cash out on their behalf. Now I've never thought of myself as any kind of genius, but that is the dumbest thing I have ever, ever heard. The islands don't have wifi, so I'm quite sure that when those girls get back to the mainland (if they can ever borrow any money for the ferry fare) and check their internet banking they are in for one almighty shock, and will be putting in a call to their parents for some emergency cash...
The ferry took us to Sihanoukville, where we found a hostel for one night before travelling back to PP. Our hostel was pretty dingy (as most of them are) but had a pretty cool bar with an even more appealing Happy Hour. The bar filled with young solo men, and we soon realised why. There were some real life prostitutes hanging out at the bar. We got two super-cheap beers and sat back to watch them in action. It was so cringey. Men would buy them drinks, and flirt and smack their bottoms (being PC just for you mum) and then disappear shortly, with the men leaving the bar and heading off in the same direction just seconds later. Call me sheltered (as James often does) but I had never seen this so blatant before, and whilst James found this all hilarious, which it was, I found it more sad. The sex industry is huge in Asia, and I had the feeling that this was just the start of what I was going to see.
The following morning we travelled back to PP, and with both of us in full health we were able to visit The Killing Fields and S21 museum, yippee. We managed to pick up the book 'The Killing Fields' in Vietnam (didn't realise it was an illegal photocopy of the original book until we had paid about $5 for it and opened the cellophane cover around it) and had both really enjoyed reading it. It's a horrific true story of a couple of journalists' experience of Cambodia during the Khmer Rouge takeover, during their reign and their time in the infamous Killing Fields. If you haven't read it (or probably even heard of it) I highly recommend you do so. It's a chilling read, especially when you know it's all true. In essence, the Khmer Rouge took over as the government in Cambodia in 1975 and carried out The Cambodian Genocide. They had a seat at the UN until 1992.
The Killing Fields and the S21 prison themselves brought so much of the book to life and James and I were very saddened during and after our trip there. Another reminder that the events were so recent is that researchers are still finding human bones at the Killing Fields. James and I could even see what looked like a human thigh bone in the ground. They excavate the ground every few months and put the bones they find in a glass box which is on display. Something that struck a chord with both of us was that in the museum it states that we know so much about the German holocaust and there is always something in the media to remind us of this, but the atrocities that took place in Cambodia that ended within our lifetime are quite unknown and rarely mentioned.
Despite it being our second visit to PP and the fact that in total we spent about a week there, it wasn't our favourite place to be. It was a busy capital city, not particularly clean, and we also didn't really feel any 'culture' whilst there - as in we felt we could have been in Birmingham or Liverpool, nothing about it said 'Cambodia' or 'Asia'. With that in mind it was time to move on.
Our final day in PP was spent visiting the sites mentioned in the Killing Fields book, before catching a night bus to Siem Reap, which was a completely different experience altogether.
Our hostel was just $3 each for a bed in a 6 bed dorm with aircon - which was like music to our ears! We had some great people in our dorm, one of which was Matt, a fellow Brit who introduced us to the street food he had tried and tested, and also fruit shakes, which turned out to be our diet for our duration of our stay there.
Together with Matt and another dorm mate Zac from Canada, we explored Angkor Wat, the famous temples in Siem Reap. We bought a 3-day pass, and for 2 of those days the 4 of us got a tuk tuk around the temples and were in awe. The first day we did the 'big loop' seeing all the famous temples, before going back to the hostel and going out for pizza and beers. The second day we opted to go for sunrise, which meant we had to wake about 5am to get ready, get there and find a good spot at the famous Angkor temple, all in the dark. Despite our tiredness and feeling a little delicate from the night before it was a really great sight.
For the final day of our 3 day passes, James and I rented bikes and cycled to Angkor Wat and to the more hidden temples, off the beaten track. It was fantastic, as a lot of the 'tours' don't take tourists to these temples, so with the exception of a few chinese tourists and their many cameras we were the only ones there, and it was lovely and tranquil, certainly a high point.
By this point we were 'templed out' and we resigned to enjoy the other sites and markets Siem Reap had to offer. Our next destination was Laos, however as our route was not a common one we didn't have any other option than to head to Don Det, part of 4000 islands in Southern Laos. Chloe, another room mate in Siem Reap was going there too, so the three of us caught the bus together. The plan for Laos was to do lots of cycling, and by this point I had already found our route, but based on experience we should have known not to make any plans…
Diary Photos
---