2017 Year of Fun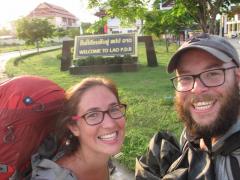 22nd May 2017 - 14th Jun 2017
Laos
Don Det, part of the 4000 islands on Southern Laos held a lot of promise, it's meant to be a haven for tourists who want to relax. Again, this isn't really James and I, and although I do love a good hammock (so much so on this trip I have purchased a grand total of 3 to take back to England and to put up in our garden) it's not something we could do for days on end. Although at this point I must tell you that when James and I were peacefully reading on our hammocks, James's hammock gave in and he fell to the floor with a thud. Needless to say he was not happy about it, at all. I however, was hysterical, it was simply brilliant, and definitely a Don Det highlight!
On our final day in Don Det we hired bikes and cycled to Don Khon an adjoining island. Part of the Mekong running between Cambodia's border and this island was home to the rare irrawaddy dolphins. There were only 3 dolphins left and we were both determined to see them. We haggled with a chap with a boat, and to much surprise, they did exist and we were able to see them! It was amazing! They didn't come far out of the water but we could mostly see where they were by their blow-holes. We were so fortunate to see them - we met some girls who said they went on a day trip kayaking to try and see them but they had no luck.
The following day we took a bus to Pakse. There's not much to do in Pakse, and we immediately booked a night bus for the following evening to take us to Vientiane, Laos's capital. On our evening in Pakse, I suddenly felt quite sick, and thinking it was food poisoning I spent the night with the bin close to my head. I wasn't asleep for long when James saw a little bed bug trying to crawl into my hair - every backpacker's dream. He woke me immediately and woke the staff to give us a new room. I was in quite a lot of pain so wasn't able to help James pack the bags (oh look how that worked out!). Our new room didn't appear to have any bugs, and we went to sleep.
I woke up feeling worse, so instead of exploring before our night bus we headed to a cafe with comfy seats (in my head I tried to pretend it was our local Neros). I did what no ill person should ever do - googled my symptoms. Suddenly I was full of malaria, with a touch of yellow fever, and terminal gout. Time seemed to move so slowly that day and I was so happy when we were able to board our 'hotel bus', a double-decker bus that had double beds (sort of). Though I was wearing pretty much everything I owned I was shivering all night, whilst fashioning quite a high fever. By the time the bus arrived in Vientiane I was in tears.
Luckily, our hotel was great and they let us check in as soon as we got there (it was only about 9am). I tried to rest but felt worse and worse. James took my temperature, which measured 39.5(!),so we skyped our insurance's medical team, who told us to waste no time and go to the nearest hospital. She gave us details of the hospital - it was called an International hospital, and my new best friend Google told me it was affiliated with Oxford University. This made my heart sing, as I assumed I would get great care in great facilities. If there is one thing that travelling in Asia has taught me, it is to never assume. In this instance I was left bitterly disappointed. To their credit, they took me very seriously and took me to a bed straight away. However they took James out and asked him to pay, which was quite distressing as I had literally no idea what was going on. It's moments like these where I like to close my eyes and visit my happy place. They told us they suspected it was dengue fever and did tests for that and malaria.
They took me to a private room whilst I waited for the results to come in, and instead of sitting by my side holding my hand, poor James was up squatting about 100 mosquitoes which were swarming in my room. They probably came from our private bathroom which had a bucket of stagnant water in it...
The good news was that it wasn't dengue or malaria! The bad news was that they didn't know what it was, so they sent me home (back to the hotel). The drugs from my drip had made me feel better, and the next day I even ventured out the hotel to a nearby cafe. The day after, however, I felt the worst ever, and the hotel got another taxi for us and I went back to the hospital that Oxford University have clearly forgotten about. In an immense amount of pain I was kept in for 2 nights, on a constant drip with James again as a human mosquito-swatter. We joked that if I didn't come in with dengue, I certainly would leave with it! James was the sweetest and didn't leave my side. He stayed both nights with me in my room, sleeping on a hard wooden bench. I don't know which one of us looked or felt worse when we woke up! Again, tests showed it was neither dengue or malaria, which meant that it could have been a virus from something I had eaten, or a bad dose of gastroenteritis.
Just writing this I am reminded of how much of a low point this was. There was one point that I genuinely thought I was dying (this was before the drugs kicked in). James was worried about me too - I started crying whilst watching some basketball, wishing I could move or even walk like the players could, and when James came back and I told him why I was crying he saw the TV was showing table tennis, and thought I was delirious.
Once happily discharged (they took me off the drip and asked me to stay in all weekend for the Monday doctor to see me, but if they weren't giving me any drugs there was no way I was staying!) I spent my days in the hotel room watching 'Don't tell the Bride' and 'Say Yes To The Dress' (Americans buy some UGLY wedding dresses!) whilst James roamed the streets trying to find some bland western food for me. It was like all my Christmases had come at once when one evening he returned with my all-time favourite dish - pasta and cheese. I am convinced that this helped speed up my recovery. If nothing else, it certainly helped my mental state!
The original plan was to cycle from Vientiane to Vang Vieng, a trip we had both really been looking forward to and had the route planned scrupulously. As I couldn't really walk well or for more than a couple of minutes at a time this plan was right out the window, much to our distress. When I was well enough, which happened to be 10 days after arriving, we got a bus from Vientiane Vang Vieng.
Vang Vieng is well known for the infamous activity 'tubing' where people (mostly tourists) sit on tractor tyre inners on the Nam Song river and get take by the current downstream, visiting bars as you go. It used to be that tourists would start early in the day and visit up to 12 bars. Along the way there were bridges and swings for people to play on and jump off. Of course the tourists would be absolutely battered, and there were many tourist deaths (apparently around 20 per year!) because of this. In 2012 the government shut the activity down, and when it reopened the rules were that only 2 of the 12 bars were allowed to be open each day. The town has really suffered because of it as it lost a lot of its income. Despite that, tubing still exists but is a very different activity from what it once was. It was an absolutely fantastic day; we met some great people and had an absolute blast. It made me feel like I was 18 again, so of course I was absolutely loving it! James was daring and went on a zipline across the river, which threw him in the water half way across, and we both tried jumping off a high platform into the river. My new friend Fran wanted to jump together, which in essence sounded great, but I didn't bank on her being the impatient type. When we got to the top we both started counting down to jump, and she counted a lot quicker than me, as we were already holding hands I got dragged off the board and down into the water below - face and belly first! There is a video of this, but the best part is James cackling with laughter when I hit the water - he is such a keeper!
With not much else to do in Vang Vieng, we got a bus to Luang Probang - a town in northern Laos. It was really beautiful and very refreshing, and by this point I was well enough to go back to sleeping in dorm rooms which definitely helped us cut back on costs!
Luang Probang is famous for its beautiful waterfall - Kuang Si falls. We got a tuk tuk along with some other lovely travellers we met and had a day trip to the falls together. This was probably one of the most beautiful natural sites that we have seen on this trip. We were able to swim in the water, but inside are those nippy little fish who feed on your toes and dead skin. This meant that if you didn't want to be nibbled on you either couldn't stay still in the water, or you just should just get out to dry land!
The park is also home to a sun and moon bear rescue centre, so we got to see some bears in a really happy and healthy environment - one was splashing water in a bear bath, looking like it was having the time of its life!
Some other travellers told us of the street food market at night, where you could have an all you can eat asian buffet for about £5, which was a bargain, as everything else in Luang Probang was pretty pricey. The food was delicious and we were able to try lots of new and local delicacies.
Not that we didn't enjoy Laos, but with being unwell and our cycling plans cancelled, it certainly was a bit of a low point. We booked a flight out of Luang Probang to Bangkok and were looking forward to a new start in Thailand, where we would both be in full health and have an absolute blast together. Of course, however, going back to the previous lesson I learned, if you look forward to something or have expectations of something, it will almost certainly not happen. Sadly, this was true for James in Thailand.
Diary Photos
---