2017 Year of Fun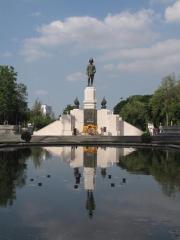 14th Jun 2017 - 29th Jun 2017
Thailand
James and I went to Thailand in November 2013, it was only for a couple of weeks (the most amount of time we could get off work at once), but in this time we managed to see Bangkok, Chiang Mai, Koh Phi Phi and Koh Lanta. We even managed to squeeze in some pretty horrific food poisoning into that too, so all in all we had a pretty well-rounded trip. The aim of being in Thailand as part of the #YearOfFun was so that I could fly from Bangkok to London to be bridesmaid at my best friend Anna's wedding, and it was also a cool place for James to hang out and have a week of fun.
Before I flew back, I had about a week in Bangkok. We found a great little hotel, but sadly we had to leave once James walked into the hallway and saw the most ginormous man having a pee in the bin. He turned round and saw us both staring directly at him (talk about awkward!). We told the Reception who checked it out on CCTV and assured us that they would ask him to leave. But as he was absolutely massive, and the neighbourhood was pretty small, we didn't fancy our chances of bumping into him waiting for us outside after hours…
So we moved to a cool part of town, Silom, which is an area where the sex industry is prevalent. As you can imagine, we left the hostel with the giant with the uncontrollable bladder in quite a hurry, so we didn't actually look for somewhere to stay, so in true backpacker fashion we walked the streets with our massive backpacks trying to locate somewhere cheap. We went in to one sketchy looking place and asked the price, he told us that it was about £40 for the night - way above our budget. Then James spotted a price list on the wall and said "Hold on, it says here that you can get a room for £15!" On closer inspection though, we noticed that this was if we only wanted the room for 3 hours…! (Mum, if you're reading this and don't understand, it's basically a BYO whore-house). Our next place to investigate was the gay district, and as luck would have it, the cheapest hostel was directly on this road. Outside it was a huge sign calling the place 'Red Lips', yep, it was another one of those. But it did the job, and when coming in from a bar one night (James got really checked out on the way home and a few she-males tried to pull him into a few bars, obviously I thought this was hilarious) we noticed there were a lot of pairs of shoes at the bottom of the stairs leading to the bedrooms, which weren't there in the morning!
Our evenings in Bangkok were spent checking out the different areas and enjoying the nightlife. One evening we sat opposite a ladyboy bar in Soi Cowboy, watching the ladyboys tempt men of all ages and races into the bars. The lady boys, I must say, were absolutely stunning and really put me to shame. For a start, these women actually plucked their eyebrows, and they definitely brushed their hair, so they instantly had two up on me. Not to mention the gorgeous high heels and makeup… in my top knot hair and overgrown monobrow I certainly felt very substandard in comparison!
We saw this one young white chap, perhaps in his early twenties get approached by this sexy ladyboy, and the next second she was holding his hand, leading him into the bar. We couldn't decide if the men who went in were aware of the niche lady-company inside the bar, or if they were and were just into that kind of thing. Either way, it was fascinating to watch.
We were outside a bar, and it hadn't occurred to me that we should actually go in, until we saw this white couple come out and walk past us. By this point I'd had a couple of beers, so I asked the lady what it was like in the bar, and if it was acceptable for us to go in. She assured us it was just ladies dancing on the bar and it was totally fine for women to go in, and that we wouldn't get roped into anything untowards! She was bang on, the inside was full of tiny asian girls dancing on the bar, with both men and women below them drinking from the bar. We discussed at length if all of the women were women, or ladyboys. I am clueless when it comes to that sort of thing, but James by nature doesn't miss a thing, he was impressively able to distinguish between men and women, and shortly after he did this, it became very clear he was correct, for example we saw an Adam's Apple appear, or large manly hands. We had a great time playing this game, and it's all fun and games until one of the ladies dances above you and you can see directly up their skirt. Annnnnd it was time to call it a night and go home.
We actually had quite a tearful goodbye at the airport, as it would be the longest time I would spend away from James in 6 months. Until this point, the longest time apart was for a couple of hours when I was in hospital in Laos and James went out to find me some food! Being by myself weirdly meant that I had to think for myself too. With James around, he is a born navigator and knows exactly where we are and where we need to be, despite never having been there before, so it was strange to actually have to pay attention to things around me.
My week in England was amazing, the wedding was beautiful and such an honour to be a part of. I loved seeing all my family, and of course I loved pigging out on fry-ups and Cadbury's. I spoke regularly with James, who was staying in a lovely little hostel that we had spent a lot of time finding before we left, to make sure it was the perfect place for him to spend a whole week. During his time without me he visited all the areas of Bangkok, from Sukhumvit to the Khao San road and saw places like the Erawan shrine and Lumpini park.
The night before I came back to Bangkok there was an incident in the hostal James was staying in,so I hand over the laptop to James to explain exactly what happened:
So I was sleeping in the hostel, and suddenly I was woken by mental screaming and banging sounds and "no no no no no" and "help" etc, the Chinese guy I'm sharing the dorm with jumped off bed and locked the door.
The noise suddenly stopped and there was utter silence except the noise of other doors being locked. I burst out laughing and the Chinese guy was like "plea Mr Jame he will hear and we in trouble" at which point I realised there are only two young girls on reception who must be terrified. So I sprang from my bed and grabbed an object which could be used as a weapon. I went to the door as the Chinese man begged me not to open the door "no Mr Jame, he coming he coming don't open door plea!" I ignored him and unlocked the door slowly. I slid the door across leaving myself enough room to attack.
I gingerly stepped into the hallway. I moved towards the stairs creeping and ready to pounce, I heard foot steps and my adrenaline spiked as from the corner of the stairs a large black man covered in blood appeared.
He said "Please help, a man with a knife has attacked me!" I ushered him into my room and sat him on one of the spare beds and got my first aid kit out and started to see to his wounds.
The Chinese guy was white as a sheet and hurriedly locked the door again.
As I cleaned the blood away, I noticed that the cuts were very superficial and a horrible thought crossed my mind. Pushing it to the back to continue with the first aid, I cleaned his wounds and by this time the black guy was shaking and heaving to vomit. I covered him with a blanket and decided that I had better continue down stairs to the girls on the front desk.
Again the Chinese man begged me to stay " plea Mr Jame it no safe stay here we phone police." But I knew I had to make sure the girls were Ok.
Again, repeating my previous action and this time making it all the way down stairs and through to reception. I was greeted by the sight of two Thai girls cowering outside the locked entrance to the hostel. Telling them to unlock the door and phone the police I turned to look at the CCTV monitor. I grabbed the nearest stool and moved towards a bend in the corridor where I knew if anyone came down I could easily deliver a blow to the head.
I held my breath for what seemed like an eternity again the rush of adrenalin coursing through my body making my legs tremble and my mind focus. I waited. And again this sinister thought entered my mind - why are his cuts so superficial and none of them defensive…
A police car screeched to a halt outside and broke my train of thought. 2 police men jumped out and started taking Thai to one of the receptionists. I slowly walked back and placed the stool on the ground. I proceeded to tell the bib (boys in brown) what I knew and where the victim was. By this point the police were demanding to see the CCTV. The younger of the receptionists rewound the footage in the fourth floor (two floors above mine) and we witnessed what could only be described as the "here's Johnny" scene from The Shining. The footage showed the door suddenly move violently and a fraction of a second later a blur of a body part came through the door. Blow after blow landed on the far side of the door smashing a hole straight through. The next second a person flew out of the door and into the hallway - too fast for the CCTV to pick up. The police ran back to the car and grabbed stab vests and batons. Putting the vest over his head I could tell he was nervous. He didn't want to go up. The other officer slowly moved towards the stairs and was joined by his friend. They walked up to the 4th floor and I watched on the CCTV as they investigated the door frame (or what now remained of it) I turned to the receptionist and asked " who else is in that dorm with him?" she turned and said "that no dorm it private room." The thought from earlier flashed back into my mind...it's the black guy who went mental and he's locked in the room with the Chinese guy!
I sprinted up the stairs and told the police what I knew and that he was now in my room. With the police behind me I knocked on the door... "Who it plea?" "It's me, Mr James" I replied. The door unlocked and the the black guy and the chinese guy were stood there...the police escorted the black guy up to the fourth floor and and then made the arrest. I came back to my room and told the Chinese guy what I now knew... that the black guy had gone mental and smashed his room up. The Chinese guy almost fainted.
I literally couldn't stop laughing and the Chinese guy thought I was totally unhinged. Funniest thing is the black guy was sleeping in our room 2 nights before, and the Chinese guy told reception that he snored really loudly so they moved him to a private room !
*Passes laptop back to Katryn*
It was a tearful reunion in Bangkok airport (man that place knows how to make me cry!) and once back at the now smashed-up hostel, we moved all our stuff to another hostel next to the Koh San Road - a tourist road in Bangkok, where it's literally sin city- and anything goes.
Regaining our youth, we went to a bar on the Koh San road, but instantly felt like OAPS at a playgroup - way out of our depth. It's amazing how many fellow travellers we have met on this trip that spend their time drinking all night and sleeping all day. Now I'm not saying that that doesn't sound like fun, and this might make me sound a little boring but we came travelling to see stuff and do fun things, not just repeat something I can do on a weekend (at least back in England you can have a proper fry-up the next day, rather than veg and rice, or scorpions on a stick to help you recover…!)
Originally, we had high hopes to visit the Thai island of Koh Phangan for a Full Moon Party (Mum, that's basically a party on the beach that 20-somethings go to and have the night of their lives at) and head to Koh Tao for some diving, but having now been in South East Asia for 2 months and our budget rapidly decreasing thanks to me being unwell, we were keen to get to South America and start our Year of Fun Part 2.
From Bangkok, we flew to Da Nang in central Vietnam. If you read our blog 'Vietnam part 1' you'll know that we were denied our 30 day visa on the border, and had to settle for a free 15 day visa instead, which meant we had to completely change our plans and do Vietnam in 2 parts. Our first trip to Vietnam was outstanding, and both James and I agree it was one of the top countries we have visited so far, so we had high hopes for Vietnam part 2.
Diary Photos
---