2017 Year of Fun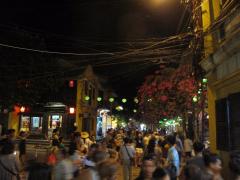 1st Jul 2017 - 7th Jul 2017
Vietnam part 2
As we arrived in Da Nang it felt great to be back in Vietnam. We had just 10 days to explore central Vietnam before a flight to Hong Kong, to then catch a flight to Buenos Aires, Argentina. We didn't waste anytime getting to Hoi An, which had come highly recommended from everyone we met who had travelled there already. Hoi An is the place you go to get clothes tailored, and the majority of backpackers we met there were doing just that. We weren't jealous or anything, but we secretly hated everyone who told us of their brand spanking made-to-measure suits.
We stayed at a wonderful hostel, which knew exactly what poor backpackers wanted. Each night they had an activity on, and our favourite one was a spring roll making class, which is exactly as it sounds and we were left with a tonne of springrolls to devour afterwards, bliss! It was here that we met a British chap called Andy, who turned out to live not far from us back in London. Whilst he was lovely and his chat was good, his spring roll making left a lot to be desired, and once the spring rolls had come out of the oven we were hoping we didn't get the baking tray with Andy's creations! The springroll class conveniently fell at the same time as happy hour, so everyone was in very high spirits, with their stomachs thoroughly lined, perfect for the activity that followed - a pub crawl.
As a form of taxi from bar 3 to bar 4, the hostel had organised free scooter rides for everyone. This had been a topic of contention for James and I throughout our whole time in Asia. Sober Katryn is very much against riding a scooter as we are not legally allowed to drive one and we are also not insured, so any accidents would have to be paid for out of our budget, which is, as mentioned, disappearing rapidly. Damn I'm such a bore. Luckily for James, drunk Katryn loved the idea of getting on a scooter taxi! I sat behind the diver, cuddling him closely (looking back I'm quite sure this goes against the advice for passengers) and James was behind me on the bike, correctly holding on to the bar behind him. It was a pretty cosy ride - and it was fabulous! I was so sad when we arrived at the final bar and the ride had ended. A highlight of the night for me was dancing with some German travellers to Liquido (English people just don't know it?!) whereas James's favourite part of the evening was the Banh Mi (pork sandwich) he got from a street stall outside the last bar. Well they do say opposites attract...
We had the pleasure of meeting up with Monica and Kelly, two Americans (I wanna say they were preppy girls? ;) ) who we met at our trip to the waterfalls in Luang Prabang. They showed us around Hoi An on our first night and it was them who introduced us to the food night market and the local dish Cao Lau, which we enjoyed most of out nights in Hoi An.
Another activity organised by our hostel was a street food tour, which was amazing. They took us to little places that we wouldn't even think of ordering from and encouraged us to try some crazy local dishes- most of which were really tasty. And any that I didn't find as tasty, James was more than happy to finish for me, he's such a selfless boy!
A popular way of moving on from Hoi An to the nearby town Hue was to rent scooters and ride your way there. The route is supposedly beautiful; it takes you along the shore and by waterfalls and beautiful scenery. James and I loved this idea and we were deadset that that's how we were going to leave Hoi An. And then we spoke to Andy, who shared my original view that they were really dangerous. We had seen countless amounts of tourists in the rest of SE Asia who had what is known as 'road rash', bad grazes down their arms and legs from motorbike and scooter accidents. James had driven a motorbike before, but I certainly hadn't. If you know me well you'll know I am a bit of a calamity and sometimes not all together there (my sister calls me a Space Cadet?) so if anyone was going to have an accident, it was going to be me. My original thought was that if anything did happen to us, we had a long-haul flight to South America in less than a week, and we couldn't afford to miss the flight, especially as we would be too busy affording the medical bills. When speaking with Andy, he brought me right back to my original belief and I wanted to take train, an activity that the 3 of us could have done together.
However, I didn't want to be boring, and I had worked up the courage to rent a bike with James. But then, the day before this meant to happen, we went to the beach.
Hoi An is also well known for its beautiful beaches, which we hired push bikes and cycled to one afternoon. The cycle there was great and I felt very comfortable and confident on the roads. After a long stroll on the beach and some crab spotting, we cycled back around 4pm. This was a terrible idea, as it was as good as rush hour. There were maniacs on the road and they came very close to my bike. There were quite a few hairy moments, and it was when we safely got back to the hostel with the bikes that I decided I couldn't ride a scooter the following day as it could only be scarier than what I had just experienced. We went to find Andy but when we couldn't find him we figured he was busy chatting up some 19 year old. James and I went to buy our train tickets, as we were told that the train follows the same route as the road and we would see everything on it that you'd see from a bike. We came back to the hostel for our second spring roll class of the week, where we found Andy, who excitedly told us that as a compromise, he found a company called Easy Rider who rode a scooter, and he would ride on the back of it to Hue, and he had booked it for tomorrow, the same day we were due to be riding to Hue. We felt terrible, once we explained that we had just bought train tickets, he did say he would have got the train with us!
Nevertheless, Andy safely rode on the back of his Easy Rider whilst James and I got our 'scenic' train (which turned out to be anything but, as the locals wanted to keep the blinds shut?!). The carriage we had booked was a standard class and we were sitting opposite a family who appeared to be relocating with all their worldly goods, including a cockerel, which was placed in a box behind our chairs. It was the most surreal thing when it started it's cockadoodle from right behind us, I can't quite imagine that on a Virgin train.
We met up with Andy in our hostel in Hue, and we also befriended an Aussie, I literally couldn't understand a word he said… but that didn't stand in the way of the four of us going out for dinner at a local 'cheap eat' on Tripadvisor. Once there, we decided to have the set menu for 4, which was such a brilliant idea as it meant we had copious amounts of food on our table for us to try, and it worked out as just the same price as if we had just ordered one dish each.
The following morning, Andy got back on the back of his bike (apparently he had a bit of a taste for it and loved it, so arranged with his chap for a few more days of riding!) and after a morning of exploring we got back on the 'scenic' train to Da Nang, only this time we were the ones with the window seat, and of course, the blinds stayed firmly open and we saw exactly what all the fuss was about with the lovely view outside.
Our time in SE Asia sadly came to an end when we boarded a plane to Hong Kong. But a highlight of our whole stay there came in the form of our taxi ride to the airport - a ride on the back of a scooter. Sitting behind the driver as he weaved through the traffic was simply liberating, and I loved every second of it. It was such a surprise - when we asked for a taxi we were thinking more along the lines of a black cab - and it turned out to be the perfect end to an amazing two months.
Diary Photos
---