2017 Year of Fun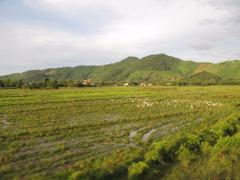 7th Jul 2017 - 9th Jul 2017
Hong Kong and Toronto
The original Hong Kong plan was to spend 4 days there before catching a flight to South America, however as we brought our flights forward to get to South America earlier, it worked out that we had just 24 hours in Hong Kong before our flight to BA. With such a quick turnaround time, we knew that we just had to whiz around the highlights.
Upon arrival in HK airport, we queued up for the bus to take us to Hong Kong Island where we were staying. As in each airport, we withdraw cash in local currency, but on the bus the driver told us he didn't have any change. We could either get out the queue, break the note on something we didn't really need and then queue for the next bus, or just not get our $2 change and put it down to 'tourist tax'. We decided upon the latter, and it was a brilliant decision, as we climbed the stairs on the double-decker bus and got my favourite seats on the bus - the front seats! I even like to ride up front in London, and I've lived there for over 7 years, so you can imagine my happiness when we had bagged them in Honkers of all places! The bus ride was of course amazing, we had such a great view, something we would have happily paid more than $2 for!
Once checked in to the most expensive accommodation so far to date (£16 each?!) we caught the Star Ferry to Hong Kong mainland to have some dinner. The ferry was an experience in itself, and something James had wanted to do for many years. It was a great photo opportunity as the sight from the boat was phenomenal, and it left us on a bit of a high. The restaurant we ate in did not disappoint, as we found it was voted in 101 best places to eat in the world! It had been a while since we were in China so the dim sum was more than welcome! It was delicious in fact, and after sampling some tasty new food including a pineapple role thing that James loved, we literally had to make a run for it to get the last ferry back to Hong Kong island. The boat ride back was again great, and we crept into our dorm room setting our alarms for very early in the morning.
We woke up at 6am and got an early subway to Victoria Peak - a mountain in Hong Kong. We were on the first train up to the peak, and when we got to the top we had the most spectacular view of Hong Kong. Because we were some of the only ones there due to it being crazy early we pretty much had the place to ourselves. A kind jogger told us where to go for the best view and we enjoyed a good half hour just standing and taking it all in.
We moved swiftly back to the hostel in time for check out and to catch our bus back to the airport. We bagged the best seats again… but it was chucking it down so we didn't really get to see anything! I like to think that it was Asia being sad for the fact that we were leaving. Since arriving in China 27th March, and this was now 7th July, we had been in Asia longer than any other place (technically earlier if we are counting Mongolia, or should we really be counting from when we crossed the Volga river in Russia?) and despite a couple of low points, we have had an amazing time there.
Onwards and upwards, or should we really be saying Eastwards and upwards, as we boarded a plane to Buenos Aires, with a quick stop over in Toronto, Canada. Once again, as we had a 4 hour stop over planned, we should have guessed that our stop over would be, in reality, anything but.
Toronto
A four hour stop over in a Canadian airport certainly doesn't warrant an entry in a blog. However, a flight that was delayed by 10 hours, a stay in a courtesy swanky hotel with a pool certainly does.
Basically, at this point in time we are no longer fans of Air Canada. The hefty delay in HK airport meant lots of waiting around, with just $10 in the form of a meal ticket for food which would barely buy us chicken nuggets from McDonalds we weren't in the highest of spirits. They had told us in HK that we would miss our connection, or more like we had to tell them that, as they were content with putting us on a flight to Buenos Aires that took off just 30 minutes after our flight to Toronto landed (really?!), so at Toronto airport an attendant presented us with a hotel voucher at the Crowne Plaza. I had heard of this chain from movies (literally all my American and Canadian knowledge is from films or from my Nashville pal Megs) and knew it would be nice. It was by far and away the most comfortable bed we had slept in in the last 6 months and getting up the next morning was painful!
In the afternoon we made full use of the hotel's swimming pool, jacuzzi and sauna, and then back in the room I jumped in the bath. Definitely the cleanest I had been since December, and it was bliss. A highlight though was taking a walk to a nearby 'gas station' (that's a petrol station for us Brits) and buying things we had heard about in films - like Cheetos and a Tootsie-roll.
That evening we left Canada behind and flew off to Buenos Aires, capital of Argentina.
As we have learned the hard way that plans don't come in to fruition, we have just one night's accommodation in BA booked, and the rest, they say, is unwritten.
Diary Photos
---