2017 Year of Fun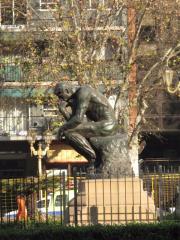 11th Jul 2017 - 23rd Jul 2017
Argentina fun - From whale watching to the end of the world
We were really excited to arrive in Buenos Aires, which offered a new start in a new continent. My sister Morag and her then boyfriend (now husband) Mark travelled around South America in 2012, and in her blog she writes "On the whole our experiences of South America is that the food is much cheaper than we have encountered elsewhere in the World." With this in mind, we were very excited to nurture our budget.
Upon arrival in BA airport we were faced with 2 options: get a taxi to our hostel in the center of town for 40USD, or get a local bus for 2 hours for about 1USD each. If you know James well, you will know he has a taste for the finer things in life, and will sniff out (and want) the most expensive item in any shop. With this in mind, despite the fact that he has been a backpacker on a budget for 6 whole months, he vouched for the expensive taxi option. Minutes later we were on the bus. However, apparently you need some kind of oyster card to use this bus service which of course we didn't have, so a generous Priest paid for us on his oyster card equivalent and wouldn't accept our cash. We were off to a great start - having spent no money, and already having met some really lovely people.
With my sister's words of inexpensive food in mind, we headed out to the supermarket for our first South American meal. Either my sister takes after James and has expensive taste, or Argentina has got a whole lot more expensive since 2012 - as we are northern, I reckon it's the latter. To put things in perspective, a loaf of bread was going to cost us FIVE GREAT BRITISH POUNDS! In that very moment, my carefully planned budget just exploded before my eyes. Our eating habits would have to change (in that we wouldn't be able to eat again, ever). Whilst James was upset about the potential malnourishment,I was just excited about the impending weight loss.
After a couple of nights in our hostel, I began to get a bit itchy. The hostel staff told me they had "mosquitos in the wall" and not wanting to cause a fuss, I took this at face value. I learned shortly after that mosquitos don't live in walls, and the bites were most definitely from bedbugs.
The following evening in a new hostel, after being unable to sleep from all the itching,I saw a bed bug crawling on my pillow. I was completely naked in bed, having taken off my pjs thinking that I still had bugs in them biting me. After seeing this humongous bedbug on my pillow I jumped straight out of the bottom bunk and woke James, who was sleeping soundly on the top bunk. I was pretty much in tears and violently shaking at this point as I had no idea how many bugs there were and how many were on me, and James had to escort me out of the 10 bed dorm in a towel!
Having just woken up and realising the room was dark, our conversation went like this:
James: "How did you see the bed bugs?"
In my tearful panic, and not fully understanding the question I responded with:
Katryn: "With my eyes!"
James: "I meant, how did you see them in the dark?"
Katryn: "Ohhh, by my phone light."
To make sure the bedbugs hadn't come with us to this new hostel, the manager of the new hostel washed all of our belongings, including our bags in poison to ensure anything that was previously living there certainly wouldn't be alive anymore. It was at this point however, that James washed a lovely little toiletbag in the poison, without realising it had all of our anti-malarial medication inside. Deciding that it would be worse to ingest the poison-laced drugs than to get malaria itself, these tablets made their way to the bin, and we would have to rethink going to any malaria zones later in our trip!
Not ones to let a small issue of having bedbugs in 2 consecutive nights stand in our way of having fun, we ventured out in BA to enjoy a free walking tour, the La Recoleta graveyard where Evita's grave lies, BA's famous artisan market (which is apparently the largest in South America) and of course, a tango class.
James almost cried when I told him we were going to a tango class and that it was non-negotiable. The class was at an old church, and as instructed by our hostel we raced to get there for 7 when it would start, necking a bottle of wine before we left the hostel for some dutch-courage. However, upon our sweaty arrival from racing through the streets and subway, we found it didn't actually start until 8pm, giving us time to watch the professionals whilst having another bottle of wine, to ease us into it.
When the class started, there were only 6 first-timers. She taught us basic steps, and in our couples we had to practice them. It was only then that I actually felt sorry for James, because he was really hating it. If I'm honest, I didn't actually enjoy it that much either, as we both really sucked at it. Especially when the teacher watched us, and said "no, you need to do it more like this" and showed us by demonstrating with either James or myself. When she did the demonstration, it actually made sense and looked good, but when James and I were partnered together again, we just didn't get it, and she just had to stop us again and re-show us, for the rest of the class.
We were a lot more drunk than we were sad when the class had come to an end, so went back to our hostel and showed them what we had learned, they weren't that impressed… The hostel had an amazing BBQ on that night, which meant we could try all different cuts of meats for a fraction of what we would have paid in a steak house. It was delicious, and so was the free Argentinian wine to accompany it.
Out last night in BA was spent with a date night to an Argentinian steakhouse. The steak (and the wine) was probably the most delicious steak I've ever had, and James was made up with his steak,which was arguable the size of his head. It was a great way to end our BA experience before we headed south on a bus to Puerto Madryn to see some whales.
Puerto Madryn
Tourists flock to Puerto Madryn to see the Southern Right whales, and we were in luck - it was whale season! The rich tourists get a boat out see them, and apparently they can come right up to your boat. Having spent all our money on bread, we hired some bikes (which were 15USD each!) and went on the longest uphill bike ride ever to the beach to see them. We sat on the sand with our make-shift picnic and waited until 3:30, which is when we were told they would appear. Southern Right whales are clearly divas, as we caught sights of the first one about 3:45. But then they came en masse and were swimming right in front of us in all directions! The sight was absolutely awesome; the whales came right up to the shore so we were able to get an excellent close-up view, and James was able to get the pictures he was after. It was a wonderful afternoon, and everything we could have possibly hoped for.
Ushuaia
From Puerto Madryn we had a long night bus through Patagonia to reach Ushuaia. Being the southernmost city in the world it is appropriately named the "end of the world." Over the last 6 months of our trip, we have repeatedly been told that we are doing our journey all wrong as we are not in high season for any country we have been (the only exception was whale watching!). This was true of Patagonia, but the fact that we went in winter didn't change anything for us - we were able to do all the activities we had planned, and although everything was covered in snow it just made it all the more special for us.
The trip to Ushuaia forced us to make a stop at Rio Gallegos, which is literally just a transient rundown town. If you've read our earlier blog entries you'll know that we often play a game relating to the town Paje, that we spent hours tirelessly searching for in the blistering heat in Zanzibar and never found it. The game goes something like this:
"What would you rather be doing right now, [enter horrible situation here] or looking for Paje?"
This game has now changed, substituting Paje for Rio Gallegos, it really is that bad.
After a sleepless night in a room where we thought we would get savaged by local vagrants, we got our connecting bus down to Ushuaia. Ushuaia is separated from mainland Argentina by the a small channel of sea, so our bus ticket included a boat - similar to the one in Botswana that we crossed to get to the Okavango Delta, just a lot, lot colder. It was absolutely freezing, so donning all of our thermals we enjoyed the view from the boat, with the world's most expensive hot dog and hot chocolate.
Buses to Ushuaia only leave Rio Gallegos in the morning, hence why we had to spend a night there. The reason for this became clear upon arrival to Ushuaia, because the whole town was covered in snow, and most evenings we were there it snowed non-stop from about 4pm. The final hours of our bus trip was spent driving very slowly, and we both breathed a sigh of relief when the bus trip terminated.
A highlight of Ushuaia, and certainly one that currently comes in my top 5 trip activities of the Year of Fun so far was the day we spent dog sledding and snowmobile riding.
I wasn't that excited about driving the snowmobile - we had done quad biking on the sand dunes in Namibia and I sucked at it, so it was intended to be more of a thing for James. James was upfront first and was a pretty reckless driver. We had a speedometer on the vehicle and he ended up going 48mph! The scenery we went past was fantastic - into the woods and around the snow-capped trees, it was just stunning.
At the halfway point we switched over so I was in the driver's seat, and I was pretty nervous. But as it turned out, I'm a pretty reckless driver too and absolutely loved slowing our snowmobile right down to distance ourselves from the rest of the group, and then bombing it to catch up with them. There was a point when I took a corner a little too fast and the whole left side of the vehicle lifted off the ground and we came very close to being overturned. Luckily James stuck his leg out and pushed us back firmly on the ground! I was absolutely buzzing and was sad when it was over, but whilst we waited to do dog sledding, we were given sledges for us to have a play around on the mountains with. There is a brilliant video of James tobogganing, and I shan't ruin it for you because it's just too good. Sadly this blog site won't let us upload videos, but I've popped it on Facebook so I recommend you check it out and see if you can watch it without wincing!
We tried to do dog sledding in Listvyanka in Russia, but were told the dogs were on a marathon (whaaaat?) so we missed out, and were determined to do it elsewhere. We couldn't have asked for a better dog sledge ride - it was fantastic! One of the dogs was naughty and kept trying to pause or run off and sniff the bushes, so he became our favourite. We spent some time with the dog-owners afterwards hearing about the dogs' lives and how they are trained. They were very friendly and playful, but they absolutely stank so we quickly learned to keep our distance!
Lunch was included on the day, which is probably the #1 best thing a backpacker can hear. It turned out to be lamb, which they were roasting on an open fire in front of us. It was probably one of the most delicious things I've tasted on this trip, and the best thing was it was all you could eat - #2 best thing a backpacker can hear! Both activities and the wonderful lunch made it the best day ever, so I have therefore since referred to this day as my second birthday on the trip.
A mandatory trip when you're in Ushuaia is to go in the Torre del Fuego Park and visit the actual 'end of the world.' The park was cool and we enjoyed having our pictures taken at the sign, but for 50USD each, it was pretty expensive, and sadly on this trip, there was no free lunch.
Quote of the day:
James: "Oh sh*t, I think I wiped my nose on this guys's towel in the night. Who leaves their towel there anyway?"
Katryn: "Well obviously you if you thought it was yours..."
Quote of the day:
Katryn to Texan guy: "I love your accent, it sounds like you should be wearing a Sherriff's hat and chewing on grass."
James to Texan guy: "I think you sound like Clint Eastwood!"
Texan guy: "Haha - I think you sound like Harry Potter."
*Awkward silence*
******
James in Puerto Madryn: "Oh look, they draw dicks in graffiti here too!"
Diary Photos
---