2017 Year of Fun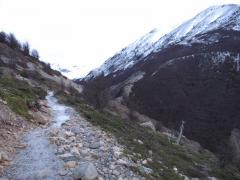 27th Jul 2017 - 23rd Aug 2017
Patagonia - hiking on glaciers, when it rains - it pours, wine tasting and salt flats
Our first stop in Chile was to Puerto Natales to do some hiking in Torres del Paine National Park. We arrived in Puerto Natales well after dark. Arriving anywhere at night is always a bit dodgy - it's a new area, we have no idea if the bus station is near the town or our hostel, and if we're going to be jumped and killed and have our skin used for making lamp shades. On arrival we whipped out our maps.me app and made our way through the unlit, eerie streets of Puerto Natales.
After walking as fast as we could in the direction of our hostel (whilst being followed by the local street dogs, some of which are the size of small bears) we got to a crossroads and heard "KATRYN?" James turned around to see a shadowy figure calling out from a dilapidated car. Obviously being scared of the dark (it's the only thing stopping me from being a police woman) I continued walking hoping that it was just a mighty fine coincidence. James being extremely brave and handsome (edited by James) asked in incredibly broken Spanish (and by that I mean he turned to the car and had his hands in a 'what do you want' pose) what the person wanted and quickly found out that they were from the hostel and had tried to meet us at the bus station. They drove us back and helped us to organise a trip for the next morning to hike in Torres del Paine National Park.
We had an early start the next morning (a backpacker's #572 reason to love backpacking) to the National Park, a beautiful park which encompasses mountains, glaciers, lakes and rivers. The hike to the top was great, but once there we turned to blocks of ice - a combination of it being about -10 degrees and gale force winds. With this in mind, it was clearly the obvious destination for our guide to organise for us to have lunch. The view was extremely beautiful, and one that would be great to enjoy if you were lying under about 50 hot water bottles. Alas we were not, but it was incredible all the same. Within 10 minutes of starting our descent we were hot and sweaty - our bodies were so confused!
Our route took us back over to Argentina to visit El Calafate, home of the Perito Merino Glacier, which we just couldn't wait to climb. We arrived at our hostel and no kidding, this is how the conversation went, on a Saturday afternoon:
"Hello, we would like to book on the next tour to hike the Perito Merino Glacier."
"Sorry, but the glacier is closed for the season."
"Oh no! That's the whole reason we are here!" (Great sadness now showing on our faces)
"Well, if you have some time to spare, the season reopens on Monday."
"Monday...as in the day after tomorrow?"
"Yes."
Just think - we have had to deal with these kind of douche bags non-stop for 7 months.
We spent our spare day visiting the Glaciarium museum in El Calafate, which worked out perfectly as we could learn all about glaciers before hiking one the following day. Did you know that the Perito Merino Glacier is the only glacier in the world that is getting bigger? We didn't either.
So the season had finally reopened after such a long wait (24 hours) and we were very excited! At the beginning of the day we did a walk to the glacier so we could see it in its entirety. There are simply no words to describe it, it was phenomenal. Whilst we were there, we were fortunate enough to see some of the glacier break off in the water, which is a special sight in itself. After a picnic lunch we donned crampons and our thermals and began the hike on the glacier. We were told to walk like John Wayne with our legs apart so that we don't injure ourselves with our spiked footwear. All the rules in the world couldn't stop me from falling on the ice though, and obviously, if I were to rank it on the graceful scale, I would say it was anything but.
The hike wasn't easy, especially as there were a few crevasis in the ice we had to breeze past - one false step and we would have disappeared into the abyss. When we reached the top of the side of the glacier (writing that doesn't sound like I'm making sense, but that was literally what it was), the guides stopped us and ran further up, to what appeared to be a massive silver box hiding within the ice. From out of the box he produced a couple of bottles of whisky, glasses and some chocolate. They then hacked up some ice from the glacier with an ice pick and popped them into the glasses before adding the whisky. It was fantastic - and exactly what we needed to warm up!
After the glacier in El Calafate, we headed to El Chalten, a village within Los Glaciares National Park in Argentina, and a gateway to Mount Fitz Roy and the Laguna de los Tres viewpoint. El Chalten however, was like a ghost town, or straight out of a zombie apocalypse film, as we seemed to be the only 2 people in the whole town - you could almost hear the tumbleweed. On our first day of hiking we intended to do a 10k hike to see the Laguna de los Tres viewpoint, but due to a slight wrong turning (ok, it was totally my fault, it wasn't clear where the trail started, so we started hiking on this thin little path) we realised that none of things we should be seeing on the trail existed. We did, however see puma footprints in the snow, which we knew were fresh because it had been snowing all night. This meant the puma hadn't long been where we were. It got even better when we saw some other little footprints in the snow, alongside the puma's, which James identified to belong to a rabbit being chased by the cat, and once their small footprints had disappeared and just the puma's footprints continued we were saddened to realise he had met an unfortunate end.
After hours of hiking we eventually saw 2 people who worked in the park and were changing the signs whilst it was low season (another trip which wasn't great timing on our part - but it did mean it was a lovely quiet hike) and they pointed us in the right way to go back to the village. The route we took back was the same as the route we *should* have taken to get to the laguna, but we had had a fabulous morning hiking the untrodden path we were actually very pleased with my terrible navigation skills (phew!) The following day we hiked to the Fitz Roy mountain. The hike was really challenging due to the vast amount of snow, but it got a whole lot harder when we reached the base of the mountain as it was incredibly steep, and covered in deep snow and ice. With each step we took we were unsure if it would be a safe one, or if we would lose balance and simply fall/roll down the mountain - believe me, it sounds a lot more fun than it was.
Reaching the top was amazing - it was the most incredible view and we were so proud of our achievements, as we learned some hikers had turned back during the ascent. Our descent was deceptively dangerous, but we took our mind off the danger by seeing the funny side - we were slipping and sliding all over the place. James held the gopro for this, and the video is full of him falling on his bum, or me in front of him doing the same, and of course, with that came many expletives (sorry mum)! Back at our hostel, we warmed up with hot showers and red wine, and we put our laundry in for a load.
The following morning as we were waiting for the snow to pass, our laundry was returned to us. You may have noticed in absolutely every picture where he isn't wearing a winter hat, James is wearing his cap. It's become quite sentimental by now as it only really leaves his head at night or for the wooly hat when in snow. The cap was put in for laundry, as you can imagine by now it's a little pungent. However upon its return, the plastic size adjuster had melted. I found this absolutely hilarious, James did not. Long story short, the hostel apologised and gave us some cash to get a replacement. Little did we know that this would be the start of the most disastrous 48 hours on our trip so far.
We got the bus back to El Calafate (it's the only place you can go to from El Chalten), and as we had been there before we knew that there was a hostel right next to the bus station. We intended to get a super early bus to Puerto Natales the following morning. It's always my job to book stuff, and because we didn't know the name of this perfectly-located bus stop, I found it by looking on our maps.me app. We arrived as the heavens opened, and ran from the bus station to the hostel, only to be told we didn't have a reservation. Confused, I got my confirmation email out to prove it, they told me that I had booked a different hostel, one that is next door to the old bus station.
At this point we were both pretty annoyed (James more so, as it was my fault I couldn't really justify getting too cross!), and being poor backpackers we had no choice but to venture out in the torrential rain to the hostel all the way across town. The trek was tough, we were soaked through and freezing, and we had to make our way across deserted marshy fields and down creepy roads. It was so dark and eerie and we both just couldn't wait to get there. We saw the big 'HOSTEL' sign from across the street, and marched over excitedly and rang the doorbell. There was no answer, and all the lights were off. We rang again, no answer. We knocked on the doors and windows, no answer. We shouted as we knocked, no answer. After a good five minutes, we realised that there wasn't going to be any answer. The only word I can think of to describe our feelings would be: livid. Livid at the rain, livid that we were soaked through, livid we were cold, livid it wasn't the hostel next to the station, and most importantly, livid at Hostelworld for letting us book a hostel that clearly was shut for the season.
We had no choice but to walk back the way we had came to the hostel next to the real and active bus station. Our half an hour walk in the torrential rain consisted of us ranting about the strong email we were to send to Hostelworld, whilst every single bit of clothing was quickly soaking through.
When we arrived back at the hostel that was next to the real terminal, we wrung our clothes through and were shown to our dorm beds and the hot showers. My first job before getting warm and dry was to log on to Hostelworld and start the complaint-ball rolling. I double-checked the hostel we had booked and mid-way saying "they've even emailed to confirm our booking", James took the phone off me and said "hang on a second…" The Photographer in him zoomed in to the picture of the front of the hostel and said "Katryn… that's not the hostel we were knocking on…"
I died there and then, when it sunk in that we had walked to where the hostel was meant to be, but we were just on the wrong side of the road, and were knocking on the wrong building.
I was drenched, freezing, and now mortified, and believed that this leg of the trip could not get any worse.
Early next morning we woke up and walked to the bus stop, very excited to get on the bus and leave the nightmare of El Calafate behind us. The journey started out slowly as there was heavy snow on the ground and after maybe an hour in, we came to a stop. Assuming it was just a casual police stop we didn't stir from our books. Moments later, the driver stood up and told us in Spanish that there is so much snow that the road has now closed, so we would have to turn back and go to El Calafate. You can imagine our unimpressed faces at this point.
The bus turned around and slowly started its return journey. However, 5 minutes later we had stopped again, to learn that we were stuck in the snow. Not to worry though, a snowmobile was on its way to help us. A couple of hours passed and the snowmobile was in full helpful mode, when it too, got stuck in the snow. Our driver tried to radio for another one, but there was no radio frequency, of course there wasn't. Hours passed, and another snowmobile was sent out to help us, but right on queue, it got stuck too.
Some very clever fellow passengers had got off the bus and were trying to hitchhike to Puerto Natales, our original destination. When they had been unsuccessful for about half an hour, I went out to speak to them and they said they were hopeful that the next car would take them. I then said "Isn't the road to Puerto Natales closed?"
-"Yes it is." He replied
-"So how are they going to drive you there then?"
*Silence*
Moments later, they rejoined us back on the bus.
Some of our fellow passengers were loving it (mainly the children) and they were out making snowmen and having snow-fights with each other. I really feel this trip has aged me quite a few years, because I know full well in my normal, real life that would have been me (playing outside by myself though, there is no way in either life James would have come out in the snow for playtime).
The journey from El Calafate to Puerto Natales should have taken us 4 hours. 13 hours later, we arrived back in El Calafate. We were pretty grumpy, slightly dehydrated and above all, starving. We had no food all day except for a tiny lunch the bus driver gave us when we got on, that we devoured at 9am (the terrible hostel next to the station didn't offer breakfast) and the bus didn't give us any extra water.
As they say, third time's a charm, at least we weren't met with rain when we arrived back in what was quickly becoming our least favourite town (it could have been worse, it could have been Rio Gallegos). We made our way to our original hostel we stayed in when we climbed the PM Glacier, as we knew they did evening food. We ordered the biggest burger they did, and placed an order to have a packed lunch for the following day, as the bus company had told us to return at 10 am to try the journey again. Of course we were incredibly dubious of this, but it's as if by miracle, the snow seemed to have vanished from the roads and we had a very speedy and smooth journey and arrived in Puerto Natales as planned, just one day later.
The next few days were spent in a lovely little log cabin in Puerto Arenas, eating good food (cooked by James, of course) and drinking some local wine. From PA we flew to Puerto Montt, where we had grand plans to travel to Bariloche, which is famous for its chocolate (amongst other things, but chocolate was our primary motive). However the chap at our hostel told us that with the weather so bad we wouldn't have a chance to get the bus there and back reliably before our next internal flight in a few days. So we went to Plan B, which was to hire a car and drive to the Lake District in Chile.
We had a fantastic few days staying in a beautiful log cabin in the middle of nowhere, with a roaring fire and plenty of local red wine to celebrate James turning one year older - the Year of Fun certainly knows how to do birthdays! We visited local towns and even popped into some natural hot springs for an extremely quick dip - it was boiling!!
We woke up on James's actual birthday to no electricity - which meant no hot water for a shower, no wifi for family to sing the Happy Birthday song, and most importantly, no kettle for a coffee! Assuming that the situation would be different in main town Puerto Montt, we checked out as planned and made our way back to our original hostel - only to find the manager greeting us at the door by candlelight. The whole town had been struck by the electrical storm due to the bad weather! That didn't stop us finding a pizza house to celebrate his birthday in style, with a family sized pizza and a beer or 7.
The following morning we flew to Santiago in Chile - for a short stopover before catching a bus to Mendoza in Argentina. A city famous for its red wine, it was one of the first places to be written on the 'Places to visit in the Year of Fun' list.
We hired bikes and spent the day cycling around the famous wine region. We managed about 6 different vineyards throughout the day, but our memory of the final one is a little hazy. All of the wine was delicious, and as predicted when I told each place that we were there for James's birthday he was given an extra glass. Did you know that 2013 was a bad year for wine? No we didn't either, but some pretentious wanna-be wine connoisseurs chewed our ears off about it all day. But the more we drank, the easier it became for us to block them out.
The following day we enjoyed the other highlight Mendoza has to offer, and our Big Macs were delicious.
We took a bus ride back to Santiago before taking a flight up to San Pedro de Atacama - a town set on an arid high plateau in the Andes mountains of northeastern Chile, home to deserts, hot springs, geysers, and of course, salt flats.
The Atacama is like any other desert we have visited this year - boiling in the day, and freezing during the night. We found a great travel agency and ended up booking a trip to the geysers, an evening star gazing, and a 3 day salt flat tour. The geysers were pretty impressive, but stinky at the same time. The trip started at 5am so we had a great opportunity to see the sunrise over them. Our trip stargazing was not something I was excited about. James loves that sort of thing, and he was not only excited about viewing stars we can't see from the UK, but also to use a super telescope. I was just excited by the fact that we were promised wine when we got there.
But this trip completely exceeded all expectations, and I absolutely loved it! They started the session with the much awaited red wine, accompanied with copious amounts of cheese and crackers - I loved it already. We sat in a semi-circle around a huge telescope and each had a blanket to keep warm. The first sight though the telescope was Jupiter, which they had to show us early on in the session as it disappears over the horizon. Next up (after some hot chocolate) was Saturn, and we could view it so clearly we could even see its rings, it was absolutely fantastic and I genuinely couldn't believe my eyes (it would be pretty funny if it was just a kaleidoscope and it was all fake for tourists…). We saw so many different constellations, and as we went up one by one to look into the telescope our guide would give us a detailed explanation of it. Both of us absolutely loved our whole experience, and I got an "I told you so" from a smug James on the journey back.
The next morning we had a super early start as we were picked up for our 3 day trip salt flats trip. For the 3 days we were driven around in a jeep stopping at amazing lakes, including a borax and an arsenic lake. We also saw so many flamingoes - including the illusive James species (I'm being deadly serious!), which were very beautiful but because I had to wait so very patiently for them to be photographed, I would be quite happy if I didn't see any more for a while.
On the three day trip, we spent one night in the famous salt hostel, which is, as its name suggests, made completely out of salt. It was pretty cool, but a little strange on the soles of your feet! It was at this hostel that a man stood outside the showers and timed you to ensure you didn't spend more than 5 minutes under hot water - it's the desert, so it does make sense. Whilst in the queue he asked where we were from. James answered 'England' of course, but he then went on to talk to us in Spanish about the Falkland war and how he shot many English soldiers. It was all very strange, and even though our spanish is currently minimal (we had great plans to take lessons in Buenos Aires, but the small issue of 'bedbug gate' changed the course of our stay) he was very animated with his arm gestures. We were therefore very pleased when it was our turn in the bathroom and tried to be super speedy to avoid his angry knock.
During this trip, at nearly 4000m I was quite badly affected by altitude sickness (of course James didn't feel anything and was perfectly fine) and it felt like there was a permanent hammer crashing into my head. I tried to keep myself to myself and drink plenty of water and pop ibuprofen regularly. On a positive note, it meant that I didn't have to engage in small talk with anyone, and left that up to James, who of course hated every second of being friendly.
The highlight of this 3 day trip was always going to be the salt flats, and on our final morning we got up super early to climb Isla Incahuasi, an island in the middle of the salt flats so that we could watch the sunrise over Salar de Uyuni - the world's largest salt flat. It was absolutely incredible, and you could just look out onto never ending land. Soon after, the jeep took us onto the salt flats to take the famous pictures that you see pretty much every South America-travelling backpacker feature somewhere on their social media. Our guide left us to try and figure out how to take the photos, but after 10 minutes of struggle he took pity on us and gave us some creative direction. We had lots of fun doing the usual kind of shots - if you want a laugh check them out in the pictures section. It was one of those moments that I have waited for for such a long time as they have been on my 'must do' list for many many years, and it was as incredible as I had always hoped.
Ridiculously tired quote of the day:
Katryn: That looks like a nice hostel
James: I don't think that's a hostel...
Katryn: I was taking the piss because I thought that was our hostel.
James: This building looks like a nice hostel though
Katryn: It's horrible - and it's made of tin
James: Katryn, that's our hostel
Katryn: (Pause) Ok, I literally have no idea where the hell I am.
Diary Photos
---