2017 Year of Fun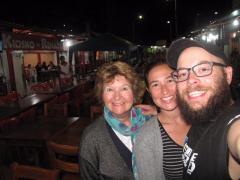 1st Sep 2017 - 13th Sep 2017
The Galapagos - a trip of a lifetime in itself (guest starring Elizabeth Taylor)
The truth about writing this Galapagos blog entry is that I've started and deleted it a good handful of times already, there is just no way to find the words to make this part of our adventure sound nearly as amazing as it was. Eight whole days with two of my favourite people was going to be amazing anywhere in the world. Throw in the fact that we were in the place that I have always always dreamed of going above anywhere else it becomes something totally different altogether. Of course, you then have the fact that we were on a luxury catamaran, seeing and being within touching distance of the most diverse and amazing wildlife on the planet, the whole 8 days was like a dream. One that I hope to be reliving forever, as it was probably the best 8 consecutive days of my whole life.
So despite my struggle to find the words, I'll try my best to write something that comes remotely close to capturing our Galapagos magic - but the best way to be struck by the Galapagos is to visit it for yourself. And then please call me, and we can have hours and hours of discussion about it. Actually please call me before you book, as I have some amazing money-saving tips, which is, when it comes to the Galapagos and its prices, a well-needed bonus!
***
We arrived in Guayaquil the day before my mum's flight was scheduled to land to allow for any bus issues (if you read our blog entry in Patagonia you'll understand our need to be cautious!).
We were waiting at the airport with a homemade 'Elizabeth Taylor' sign (no I wasn't waiting for the late actress) and I was the happiest girl in the world when she appeared at arrivals!
We had booked ourselves onto an 8 day luxury catamaran with G Adventures before we had left the mainland, so we were aware that we had a couple of days to spend on the islands before meeting our group at the airport. We booked ourselves into a hotel on one of the main islands Santa Cruz, and upon arrival checked in no problem.
They say that you should never meet your heroes, as you'll only be disappointed. James had to remind me of this when we arrived at Santa Cruz island in the Galapagos, as it was absolutely nothing like any of the gazillion documentaries I had seen on the Galapagos islands. It was very touristy, a lot of buildings were in a state of disrepair, and for an acapellago that makes you pay 120USD before you arrive on the islands to help keep them clean and tidy, it was a bit of a mess, with litter in every direction. I was so disappointed and felt rather cheated. However, we remained positive and enjoyed our couple of days alone on the island. James and my mum were able to try lobster freshly caught that morning, whilst not really being a fish person, I tucked into a burger. We got a boat ride over to San Cristobal island, which was a lot, lot choppier than expected, which just added to our amusement, as my mum was hating every second of it!
The following morning we met our group at the airport and were taken to the port to wait for a speedboat to take us to our catamaran. At the harbour we played a guessing game as to which boat would be ours. There were many small boats and one rather sizable luxurious looking boat at the back, we joked about how great it would be if it was ours - and low and behold it was the huge luxurious catamaran that we were taken to. We were speechless - it was absolutely amazing.
Each morning and afternoon a different activity on a different island was scheduled, followed by the opportunity to go snorkelling in the Pacific and in reefs next to the islands, which of course we did every single day. My mum had never snorkelled before, and after a quick lesson from Milton our guide she was like a pro. One time in the water, a reef shark swam right below us. I looked over and saw my mum bravely snorkelling within inches of the maneater (well, not quite a maneater, but it was pretty scary all the same!).
Our trip took us to 6 different islands, each displaying different fauna and flora, and more importantly, each having a slightly different breed of giant tortoise. We went to 3 different breeding centres during our time, the most significant being the Charles Darwin station on Santa Cruz island. This is where a lot of the research and projects happen, and also where the famous late Lonesome George is exhibited. He's only been here since March, before that he was on display in the American Museum of Natural history in New York, so we were very fortunate to come at this time! At each of the breeding centres it was possible to see the differences between the tortoise species, such as the difference in their necks. The theory is that they have evolved over time to adapt to their surroundings, and tortoises on islands where they have a ground-level food source have smaller necks than those on islands where they have to reach up high for their food.
On the Galapagos islands, animals are the priority, and they are also not scared of humans. This means that if a sea lion is in your way, you have to walk around it, making sure you keep at least 1 metre away from them. When we were on the dock waiting for our boat a sea lion was sitting on the bench, this meant that everyone else had to stand and wait, rather than sit comfortably and wait!
We swam alongside sea lions, turtles and sharks and each time we were in the water we saw something new. A highlight for me was seeing some penguins hunting a school of fish in the water. They dived into the water and the fish quickly separated, yet managed to stay synchronised. It was incredible - exactly like what you'd see in a documentary, and we were there to witness it first hand. James was in charge of filming it on the gopro, but the video just does not do it justice.
We also saw both land and marine iguanas - the latter is famous for spitting salt, and we were (un)lucky enough to be so close that spit landed on my shoe. It was exactly like Attenborough's documentary, and as my mum said: it was like he was right here with us.
These 8 days alone were a trip of a lifetime, one that is so hard to put into words, I'm well aware that what I have just written doesn't even begin to capture the magic and beauty of the Galapagos islands. Please please check out James's pictures and hopefully they can provide a better glimpse of what we were able to experience.
I can only assume that the 10 days my mum was here was a little intense for James, spending all day every day with one Taylor girl is apparently quite a challenge (or so he often tells me), so with 2 Taylor girls I can only assume it was double the fun. But if he found it tough he didn't show it - I expect he was happy that I was chatting to someone other than him and giving him some peace and quiet - for the first time in 8 months!
It was a very sad morning when we took my mum to the airport, but I was so happy that we were able to share these 10 days together, an experience I hope the three of us will talk about fondly for many years to come.
Diary Photos
---