2017 Year of Fun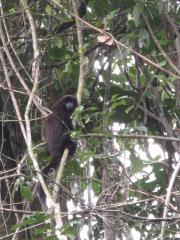 14th Sep 2017 - 25th Sep 2017
The Amazon Jungle and the Middle of the World
Seeing my mum off at the airport was a real low point. The three of us had had so much fun together and it was an absolute pleasure to have her as an honorary guest on our Year of Fun (for good reason we have become quite picky). After she left we adapted to life just the two of us again quite quickly, but it was hard to adjust to life without an all you can eat buffet, hot showers when we wanted them and we actually now had to pay for stuff instead of getting it all-inclusive, sad times.
We left Guayaquil as soon as we could (we had very much overstayed our welcome having been there before and after our Galapagos visit, and I'm quite sure no other traveller has ever stayed- or has ever found reason- to stay there for that long!) and we jumped a bus to Quito - the capital of Ecuador. It was on this journey that I read about 'Express Kidnappings', which is when you get in a taxi, and instead of taking you to your desired destination, the driver takes you to an ATM and at knifepoint makes you withdraw all your savings. Once they have your cash, you are left there. My book specifically told us to avoid yellow taxis as these are common in 'Express Kidnappings'. I relayed this information to James, and when the bus pulled into the bus station, all we could see was a plethora of yellow cars. Brilliant.
By now though we have become quite vigilant and we only take taxis from a taxi rank, when we get in the car we have our maps.me app open and it shows us the route we should go and the route the driver is taking, so that if there is any deviation we can alert the driver that he is going the wrong way (they are expecting you to not know where you are going so when you rock up at a deserted ATM you're surprised). We also take a photo of the driver's licence/ID which is often placed on the back of the driver's seat. It sounds like we are crazy, but you can never be too careful - I do hope these habits stop once we get back to London! Who am I kidding, we will be way too broke to be catching taxis anyway!
Quito is notorious for being a little bit unsafe for travellers, especially in the evenings after dark all travel books and hostels advise you to not be on the streets. We are normally super vigilant anyway, but in Quito we intended to be even more so, which is why my phone lives in my bra, alongside large notes and our credit cards if we have them with us to visit the ATM. On a bright night in Quito we were on the way to a restaurant recommended on Trip Advisor that was a little tricky to find. For this reason James had his phone in his pocket to he could refer to the app whilst en route. On the main road two little boys maybe about 8 years old approached us, one trying to sell us roses, and the other a large gift bag (what?! There is surely zero demand for these). As usual, we politely told them both 'No gracias' but they were weirdly persistent. After a few more 'no gracias' they were still walking next to us trying to make a sale. I did think at the time that this was odd, as usually they would just leave and go to the next person in the street, but the reason for their persistence became quickly evident. The little boy selling the roses was tapping James on his left, and the boy selling the bag was on his right. The next thing I saw was James smack the gift bag out of the boy's hand onto the floor and shout 'No' and the little boy promptly hissed at James. I was astounded and promptly shouted at James for being so callous and throwing this boy's only way of earning money onto the floor. James quickly jumped in telling me that the boy had placed the gift bag strategically over James's pocked and tried to slip his tiny hand into the pocket to grab his phone. Luckily James had caught him in time before he managed to get hold of his phone.
This obviously left us with a sour taste in our mouths, and the Tripadvisor dinner was definitely not as tasty as it should have been. Still pretty upset at the situation that little kids are forced into theft, we called it a night and made our way home. Low and behold, the little boys were still on the same street, and as we walked past them, it was now obvious for us to see that they weren't looking at the person's face, they were eye-line with people's pockets and that is how they were selecting their targets. This meant that when they try to acost James again they hadn't looked to see it was him. James caused a scene in the street, telling the boy that he knows what he is trying to do, and that made the other tourists present keep a wide berth. So for that night, our phones were safe.
We met some lovely Aussies on the Death Road in La Paz, who had recommended the Blue House Hostel in Quito and to do the Jungle trip that the hostel offers. We normally seem to be the backpackers giving the advice so we were really excited to be following a recommendation. Sadly though, Blue House didn't have any free beds for our first night in Quito, so we had booked the Discovery Hostel, that was literally behind Blue House for our first night to just catch up on sleep before we moved to Blue House and booked the jungle.
We are always excited when the dorm room we have booked isn't full, meaning there is a higher chance of us getting a full night's sleep. We were therefore very excited in Discovery Hostel to see it was just James and I and a random Ecuadorian guy. However, when I was in the shower, he told James he made metal trinkets and asked if would like to buy this orange dreamcatcher for 5 USD. James being James, he just said "No thanks." I came out the shower and James went in, and before I knew about his sales pitch, he came over to my bunk bed and knelt down by my side as if he was proposing (well, at least someone's doing it!) and presented me with an orange dreamcatcher. He told me that the colour meant sexual desire, and it matched the orange top I was wearing. In his broken English, he told me he had "sexual desire to me" and wanted me to have it. He proceeded to tell me I was beautiful, all the while edging a little closer. If James was a normal man he would have been out the shower by now, but sadly in showering we swap gender roles, and he loves to spend a good ten minutes in there. A good 30 seconds will do me fine. I knew James wouldn't be out any time soon so I just had to be really harsh to this guy about not wanting his dream catcher, and I practically pushed him away while I stood up and organised my bed. Later I told James about my encounter… the only thing that bothered him about my story was that I could get a dreamcatcher for free whilst he would have had to pay 5 USD!
We booked a 4 night 5 day trip to the Amazon jungle, to the area of Cuyabeno, one of the largest nature reserves in Ecuador. Going to the Amazon jungle was always on the list from the start, and as it was only 30 USD to add a the fourth night onto our trip we jumped at the chance to make our elongate our time in the jungle. After a very long bus ride through the night, a few hours wait in a cafe, another bus and a 2 hour motorboat ride, we were finally at the Dolphin Lodge. We had our own little jungle hut complete with en suite and an extra bed for James to pack and repack the bags, so we were both very happy.
The first three days consisted of jungle walks and boat rides. Just by being on the boat to get to the walk we could see so many different animals. Our guide was amazing and would stop at each animal and tell us more about it. We saw so many different types of monkeys, but not for long as they were always on the move. We saw a sloth high up in the tree, and each day that we passed the tree on the boat it was still there - apparently they only move once a week, and that's to poop.
We had a boat ride to a famous lagoon where our driver stopped the boat and we waited in silence. Low and behold, we heard an exhale from a blowhole and a dolphin came up out of the water! Cuyabeno is famous for having pink dolphins, and we were so fortunate to be able to see them - and they really are pink! The dolphin turns pink when it does exercise (a bit like my face after running!), so when we visited they must have been a bit lazy as we could just see a light shade of pink. We then took a walk to see a huge anaconda, which had taken to hiding in a cave, which was great for the guides as they knew where it was so could bring groups easily.
We took a boat ride and jungle walk to visit the local Shaman, which is a local spiritual doctor. In short, people visit him and tell them of their health problems, he then drinks this drink called ayahuasca which is made up of hallucinogenic plant material. Whilst high he has visions on how to cure the illness. When he has come down he makes the medicine using plants from the jungle which the patient then ingests and should then be cured. It was a fascinating visit and he told us of ailments that he has cured, one of them was that he cured deafness. I have never been one to believe in this sort of thing, but curing deafness did pique my interest. Shortly after, however, we saw him in action and my interest was quick to dissolve. He tried to cure one of our group's back pain by smacking them on the back with stinging nettles. Whilst performing this ritual he accidentally stung himself on the hand, and then he was promptly bitten by a mosquito. He then asked our group if any of us had any bite and sting relief he could use...
One night we went on a night walk, which really is as scary as it sounds. Our guide decided to tell us that there were so many more eyes on us than we could actually see - thanks dude. We saw so many different types of spiders - and even saw a wolf spider eating a tailless whip scorpion. It was horrible yet fascinating at the same time. The only thing positive about this situation is that I discovered that if you say tailless whip scorpion fast it sounds like you're saying Taylor Swift scorpion, which I found really exciting, of course, James did not. As soon as we had returned back to our lodge from the night walk I jumped in the shower - I had no idea what creepie crawlies were on me, and after seeing so many more species than I ever thought possible during the night walk, I wasn't going to take any chances!
When the 3 days were over, all but three of us in our group left the Dolphin Lodge and started the loooong journey back to Quito. Myself, James and our dutch friend Anika were put in a boat with a paddle and we canoed down the river. It was so peaceful and beautiful, not to mention exceedingly hot - it would be hot if we just sat in the boat, but we actually had to put effort in and canoe - queue face sweat. We were able to go down little tributaries that we couldn't go down on the motorboat so we saw a completely different side to the jungle. Our guide navigated us to a lagoon, where we were told to sit and wait. In less than a minute we saw our first camen lazing about in the water. Within 5 minutes we must have seen up to 20 camen, which was about 19 more than we had seen on our previous camen searches on the motorboat! Just as our time in the lagoon couldn't get any more exciting, our guide gave us a fishing rod and told us we needed to catch a piranha for lunch! Piranha fishing was so much more fun than I thought it would be and both James and I were successful in catching them! However, they were apparently too small for lunch so we released them back into the river, which I was not sad about!
One the boat back to the lodge we saw about 50 different monkeys swinging through the trees making their way through the jungle. It was at this time that I experienced my first ever wasp sting. My sister Iona is allergic to wasp stings, so it was a little bit scary for the first couple of minutes. You would think by how much it hurt that I was allergic to them too, but apparently that's just what a wasp sting feels like. I'm just surprised that I still live to tell the tale.
Once we were back in Quito we visited the Middle of the World, locally known as The Ciudad Mitad del Mundo. Trying to save on costs we took the local bus, which obviously meant we got lost. There are two sites of the equator, one that was mapped in 1736, and one designed for tourists. Even though it was the second time we had crossed the equator (the first was on the Galapagos) we had a really fab day.
Quito was always going to be our final stop in Ecuador, as the common tourist trail is to go from here into Colombia. The instructions from our hostel on how to get from Quito to Colombia read something like this:
"To get to Colombia get on the earliest possible bus, you should not be on any bus after dark as there is a high possibility it will be hijacked"
If there was ever a sentence to get you excited for an upcoming day's travel, that would be it!
Diary Photos
---