The Soutpiel Safari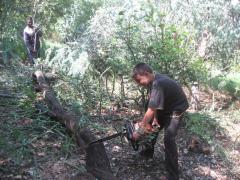 25th Dec 2011 - 6th Feb 2012
Too much to do, not enuff time!
Isn't it strange how when you're at home things just never seem exciting enough to actually write up on a blog - so it gets left ... and left ... and left ... and suddenly it's 6 weeks later and you're staring at a blank page in disgust at your laziness??
Oh well, no way am I going to subject you to a day-by-day blow-by-blow account here: suffice to say that we are now living extremely confortably in our wonderful new room, we had a glorious Christmas with many of my family here, had Jill come over to visit from the UK and have just spent a week travelling through the KwaZuluNatal battlefields and the Drakensberg. You see, it pays to have guests! Then the work HAS to stop, in order to entertain them!
It's been many years since I'd been to the battlefields, and while the sites are somewhat run-down and dilapidated, on the whole it was fascinating. We covered Isandhlawana (where in 1879 some1329 British soldiers were decimated in a disastrously stupid fight against the Zulus in about 6hrs), then moved on to Rorkes Drift where some 12 hrs later 139 soldiers of the same Brit force defended a mission hospital against 5000 Zulus to win 11 VCs with the loss of 17 Brits and maybe 500 Zulus, From there drove only a few miles to the site of the battle of Blood River, when the Boers had met the Zulus and effected what they thought was a decisive victory over them in 1838, some 40 years previously. So much bloodshed - and for what, is always my thought? Because now, in 2012, the Zulus are still living on this same land; in fact they now own it "voetstoets" as we say in South Africa! And just across the river from the Boer Monument (an impressive laager of 64 full-size bronze wagons), the Zulus are building their monument - to tell their side of the story. More bloodshed to come when they all arrive on 16th December to celebrate??
Once all the building work was finished, the labour force reverted to being gardeneres, and for the past 3 weeks we have been chopping down alien trees, uprooting bushes to clear some of the "jungle", strimming and slashing 50 acres of grass and bushland - it's not a small job! And with all the rain we're having, as fast as they cut, it grows up behind them! Still, it all looks wonderful - the veld is ablaze with flowers, the grass is green, everything is unseasonably lush. A harsh winter on the cards?
And of course to add to the excitement, I've been up to my ears in edits and school-text books, all with very very tight deadline - and John's been swamped by masses of paperwork, skype calls to US/UK and every other place imaginable, computer searches - all connected to the new job he's taken on, that of Commodore of the Ocean Cruising Club! The outgoing Commodore laughed and said it was a doddle, except for a few headaches. Well, more than a few - but still, they don't know John when he gets his teeth into something!
Roll on June when we can escae to the boat and some calm seas"
Diary Photos
---