The Soutpiel Safari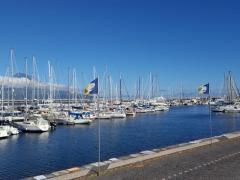 3rd Jul 2018
2017/2018 to date
So what's happened in our somewhat hectic lives since getting off the boat in Norway? Well, lots - I'll need to break it down into chucks, but probably easiest to start with the most recent first! So here goes:
June 2018 was spent in Horta, the Azores - mid-ocean, the meeting place of all Atlantic cruisers. John and I ran an OCC Rally, 46 boats congregating from all over the Atlantic, with the aim of joining in the centenary of Peter Cafe Sport, a huge event in this area! The OCC and Peter Cafe Sport have been long-time associates, and it was a privilege and pleasure to be a part of the celebrations.
46 boats, including King Bee from Japan, Embellie V, Trevi, Isode and Bohanig from France, Intrepidous, Gregal Cuarto and Cabaillito from Portugal and the Canaries, as well as all the usual mix of US and U.K. boats - a truly I ternational mix! Some 186 people at the first two events, reducing slightly as the week ran on, culminating in a glorious prize-giving in the splendid Amor Da Patria on Friday night.
During the week we had beautiful walks through the hills above Horta, exhilarating bike rides down the zigzag roads of the caldera, whale-watching which experience stunning wildlife shows, bus tours and hikes up Pico VolcNo: the Azorean authorities were unbelievably gracious hosts and offered us amazing hospitality.
All in all, a wonderful event. Hope you enjoy the photos!
I am back in the UK for a few months, while John has taken Al Shaheen on his last major trip with her - oh I didn't say did I? Some months back, the new owners of Al Shaheen asked him to sail Plymouth to Azores, the back to Gibraltar, Sardinia and Greece! So, a final swan song for him, some 4000nm before he hangs those sea boots up completely. But have no fear, that's not the end of his sailing - watch this space for future developments as he begins his next project, building a 30' planing keelboat - in South Africa, 600kms from the nearest ocean!
Diary Photos
---