Adventures down under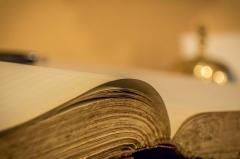 17th Feb 2017
Leaving the sun for the rain (Blenheim)
First, a postscript to last night - on leaving Mapua and driving up the Main Street in the dark, we saw a youth kayaking down the street! Yes, there was enough water in the road to do this; it looked like a burst tank in one of the properties as there was quite a flow of water coming out of a gate and rushing down the road. Quite unexpected!
Today it was goodbye to sunny Nelson as we checked out to drive to Blenheim in the heart of the Marlborough wine region. The sun was trying to break through the cloud as we left, but spots of rain appeared as we drove through Nelson and this turned heavy as we went. In the mountains we came to a standstill for ten minutes for some roadworks on a bend. It looked like a bank had collapsed under some logging work and this was being cleared up. We had followed a lorry for nearly all the way from Nelson - they certainly run at quite a speed here and don't really hold you up too much. We were happy keeping well back out of the spray. The rain did mask much of the scenery on the journey, particularly in the mountain section. As we came into Blenheim, the sat nav (maps.me on the mobile phone), suddenly stopped displaying the map although was still giving directions; we had to stop for a quick reset!
It was still raining heavily when we arrived at Peppertree, our next stop. It didn't help with the locals saying it doesn't rain much here and they haven't had rain for ages - the hillsides are all brown. As we had arrived fairly early, we decided to visit the Omaka Aviation Heritage Centre, just 15 minutes from where we are staying. This is a fantastic place full of interesting exhibits and we could have stayed longer if closing time hadn't intervened! Although there is a WW1, a WW2 and a classic car exhibition, we only had time for WW1 as it was so engrossing. Peter Jackson (the film director) has sponsored much of the exhibition, providing both exhibits and expertise. The first aircraft we saw was a Caprioni CA22, dating from 1913 and an original (most of the other aircraft are good reproductions). There were two large holes in the wing and we asked whether they were bullet/shell holes. It appears that "some clown " put their fist through it to gain handholds when the aircraft was being installed! As this is one of Peter Jackson's personal collection, he couldn't have been best pleased. There was a good exhibit showing "Grid's escape" (Grid was the nickname of NZ air ace Keith Caldwell). The display shows an amazing episode in Caldwell's story in which he managed to regain control of his SE5a fighter after it was crippled in a mid-air collision, managing to stabilise it by placing himself half in and half out (mostly out, standing on the wing) of his cockpit for just long enough to nurse it back to the lines and jump clear just as it was about to crash. Caldwell survived his fall, and the war, and was C.O. Of RNZAF Base Woodbourne for the first half of the Second World War! Apparently the English didn't issue parachutes as they were worried that pilots would eject too early and destroy otherwise serviceable and expensive planes!
We had an exceptionally good dinner in Blenheim in "Mia" (Made In Aotearoa), where Judi declared it was the best meal she had had since arriving in NZ. The staff are amazing with an excellent sommelier (also the owner) who selected a personalised flight of wine for each of us. After our meal, the executive chef (and business partner) came out and spent 20 minutes chatting with us. We wanted to book again for tomorrow, but the waitress had a look and they were fully booked. A word with our friendly chef soon fixed a table for us at a reasonable time. We had asked our host to book a wine tour for tomorrow, but it seems a darned cruise ship is in port and they have booked everything up (what pests - we hate cruise ships!), so we have made alternative arrangements for a private tour. We'll let you know how that works out tomorrow.
Diary Photos
---