B1 Adventures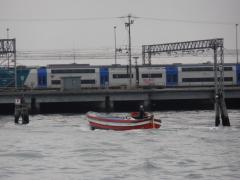 31st May 2013 - Italy 2013




Last Day in Italy



Today I leave Venice and take the train back to Rome before flying home tomorrow afternoon, Italian time.

I went for my last early morning walk and said my goodbyes to Venice. I have really enjoyed my time here and I found it really easy to get around and I certainly mastered the waterways!

The Venetians are very healthy and live into their nineties, they don't appear to smoke as much as their fellow Italians. The get their exercise from walking, there are no elevators and plenty of stairs everywhere and of course no cars or bikes.

The fast train trip back to Rome was fine and I was greet back at my Rome hotel like an old friend and have been given a suite on the top floor.

I took a walk down familiar streets and sat and had a aperitivo - I am hooked on Italian Spitz which is made with an orange flavoured Italian Liqueur, sparking wine and soda -very popular over here especially in Rome. When you have a drink in Italy you are always given nibbles, no good for the waistline!

I ended the day with a nice meal at the hotel.



Diary Photos
---