B1 Adventures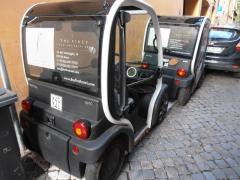 1st Jun 2013 - Italy 2013




The End to my Italian 2013 Adventure



I went for my final walk in Rome over a familiar route and stopped at my Bakery and had my final coffee and pastry. I have found the price of coffee interesting over here, I have paid up to €7 yet today it was €2 for a cappuccino and a pastry. It is also costs more if you sit at a table rather than stand at the counter. Take away is not usually available.

I just arrived back before the rain! Intend to relax in my room for the rest of the morning.

After final packing it will be off to the airport for a mid afternoon flight to Dubai where I have a night at the International Airport Hotel before flying home, arriving on Monday 3rd June.



Diary Photos
---