B1 Adventures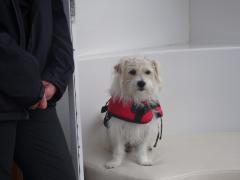 14th May 2014 - New Zealand 2014
A Day in Akaroa
When I woke the weather wasn't good but it improved as the day went on. After a leisurely breakfast I did some more sightseeing in the village and after lunch I sent on a Dolphin Cruise. By then the rain had stopped but it was still overcast and cold but the water was calm.
The boat set out through the heads (and I wasn't sick!) and slowed down in the waters where the dolphins hang out and before long we had a mother and her calf along side the vessel. The NZ Hector dolphin is quite small compared to dolphins in Australia. We then moved on and found another pod of about five which frolicked around the boat however they were really hard to photograph as they were so fast.
On the way back we pulled in close to the rocks and saw a colony of small fur seals which were lying and playing on the rocks.
We also saw cormorants along the rocks.
The rock formation was also very interesting as the land formation is the result of 3 volcanic eruptions.
The sun was out by the time we made her way back.
Each evening in Akaroa I have been treated to great meals (and wines) at restaurants recommended to me. The seafood and local produce is wonderful!
Diary Photos
---