B1 Adventures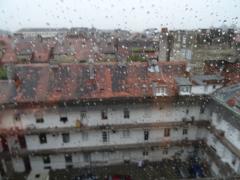 15th Oct 2014 - Eastern Europe 2014
Last Day in Zagreb
I woke up to a very wet day! So it was a good day to visit the Art Gallery and Museum!
Even though it was raining I decided to walk and I sheltered for a while in the café attached to the Palace Hotel which is a beautiful mansion built in 1891. I then wandered into the Botanical Gardens but it was pretty miserable. I was impressed though that every plant was not only named but catalogued with a number!
I then reached the Museum Mimara which is a must see in Zagreb. Ante Topiĉ Mimara was a very rich and prominent Croatian who donated his entire collection of over 3750 priceless objects to his native Zagreb. To house and display the collection, the authorities moved the children out of the school and turned the impressive building into a Museum.
My favourite piece was a statue of a large intact (except for one finger) Greek Athlete which was only found on the bottom of the seabed in the 1990s and it has been a major exercise to raise it from the seabed and clean off the crustaceans. There was an interesting video of it taking place.
There was also a lot of Japanese and Chinese Artefacts as well as some paintings done by well-known artists such as Rubens and Renior.
When I came outside it had stopped raining so I walked across the road and had lunch in the Art Gallery café.
I then caught the Tram back to the main square and wandered around the streets where the main shopping area is before going back to the hotel for dinner and to pack.
Diary Photos
---