B1 Adventures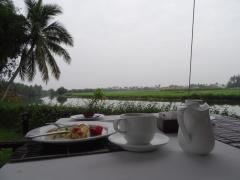 22nd Feb 2015 - Vietnam and Cambodia 2015
Last Day in Hoi An
Today a couple of us caught a taxi into town early before the crowd. We started out at a beautiful Coffee House and then we wandered around the streets.
We found a large monument surrounded by water with the most beautiful pink lotus flowers growing in it.
We then strolled around the old part of town and met a women with the traditional bamboo stick and baskets on her shoulders selling fruit. She convinced me to have a go. She was a little lady and the baskets were so heavy! She showed us the scars on her shoulders.
I spent the rest of the day relaxing at the resort. Late in the afternoon I walked down the road for a couple of kilometres to China Beach which was the beach the Americans used for R &R for their troops during the Vietnam War. All signs that they were there are long gone and it was full of families preparing dinner. Further around the point there are many new Resorts and Hotels being built, it has become quite touristy.
It was a bit hairy walking back at dusk as there are no footpaths and there were streams of motorbikes whizzing by!
My new friends and I then went for a final meal at our favourite restaurant across the road where we were made very welcome.
Diary Photos
---