B1 Adventures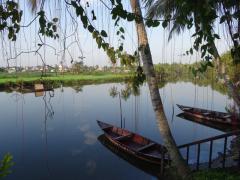 23rd Feb 2015 - Vietnam and Cambodia 2015
Arrival in Ho Chi Minh (Saigon)
We arrived in Ho Chi Minh around 3pm, the weather was in the mid 30s and very humid!
After dropping off our bags at the hotel which is in District 1 right in the heart of the city we began our tour.
Our first stop was to visit the Reunification Hall (former Presidential Palace). During the 19th Century the Palace was the residence of the French Governor General and later the home of the President of South Vietnam. In 1975 the gates were knocked down by a North Vietnam Army tank when North Vietnam took over the South.
Our next stop was at the General Post Office which is a wonderful hellow building designed by a French architect in the late 19th Century. It is across the road from the Notre Dame Cathedral. Some buildings were still closed though because of the Tet Holidays.
My favourite buildig was the Peoples Committee Building another impressive French Colonial structure.
We then walked back to our hotel where I had a quiet night.
Diary Photos
---