B1 Adventures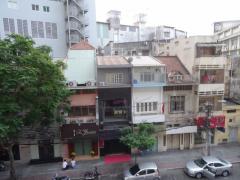 24th Feb 2015 - Vietnam and Cambodia 2015
A lovely day in Ho Chi Minh City!
Today I had a "me" day! I decided not to go with the group but to do my own thing.
After breakfast Mary and I walked up the street and found a gorgeous Vietnamese Tea House where we lingered over our drinks in a wonderful setting. The bill was a bit of a surprise though, $15 for a cup of tea.
While we were in the Tea House we heard music and went outside to see a colourful Ceremony of music and dancing which included a dragon on the steps of the Plaza. The ceremony was held outside many banks and large businesses across the city that morning to ensure a prosperous year.
After a walk around the block I went back to the hotel for a massage.
In the afternoon Mary and I went to the Caravelle Hotel where we had Vietnamese High Tea with Champagne which lasted a couple of hours.
Later in the afternoon three of us went to a performance at the Opera House, the Ao Show which was performed by a group of very talented young people who did acrobatics and dance movements using bamboo baskets and rods. It was set to beautiful music and depicted Vietnamese Culture over the years. It was amazing and moving!
We then joined the rest of the group at a local restaurant for dinner.
Diary Photos
---