B1 Adventures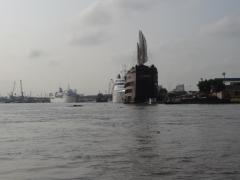 25th Feb 2015 - Vietnam and Cambodia 2015
A trip up the Mekong River.
On our last day in Ho Chi Minh City three of us decided to go on a day trip to the Mekong Delta rather than spend the day at the shops!
We left early and walked down to the pier where we met the guide and the crew and the other seven passengers. Our wooden boat was flat bottomed with a canopy and an outboard motor.
Once we set sail they served breakfast. The sights along the banks were certainly interesting as we witnessed the housing and the local people going about their daily life.
Our first stop was to the Cao Dai Temple which is also a Monastery for Monks as well as a place of worship.
We then stopped at a small riverside market where we saw live poultry and other staple foods being sold.
Once you get up into the countryside there are not many bridges across the Mekong and where there are bridges they have been built as projects by other countries such as Australia. The locals rely on very old ferries to transport them from side to side.
We then visited a typical country homestead where we met the matriarch who was in her 80s. They had a huge pet python!
Our next stop was to visit a more wealthy family who had a Rice Paddy and also grew coconuts. We sampled fresh coconut milk followed by homemade whiskey (didn't like!).
Our final stop was to a small village where we first visited the Pagoda and then went to the local school where many orphaned children live. The tour company supports the school and 12% of our fare is donated, which is great!
We had a lovely Vietnamese lunch there which was cooked by the local chef. It included fried elephant ear fish.
It was then a quick trip back to the city. Along the way we saw a different aspect as it was low tide.
It was then time for a final dinner in Ho Chi Minh City and packing for an early start in the morning.
Diary Photos
---