B1 Adventures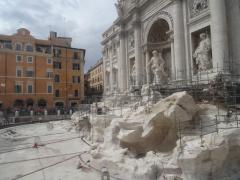 16th Sep 2015 - Tom and Grandma 2015
Out and About in Rome
Today we spent the day looking at the sights on the Hop on and Hop of Bus. After doing the full loop on the bus our first stop was the Trevi Fountain which was disappointing as it is under refurbishment.
The weather in Rome was very hot – around 35 degrees and very humid!
We found that sitting in restaurants was one of keeping cool so Tom enjoyed a large pizza for lunch!
In the evening we went to my favourite Piazza, Rome's iconic Piazza Navona. It has a beautiful fountain – Fontana Dei Quattro Fiumi (Fountain of the 4 rivers)
Piazza Navona has a wonderful atmosphere as it is full of street performers and artists. The architecture is also lovely with beautiful apartment buildings. Tom was fascinated by an artist who was painting with spray cans to music. He was quite a performer and his art was quite good also.
We enjoyed sitting outdoors in a little restaurant watching and listening to the sights!
Tom's Thoughts:
Tom did not enjoy the heat! Thank goodness our bedrooms are air-conditioned!
Tom loved the Piazza Navona and all the street artists!
Diary Photos
---