B1 Adventures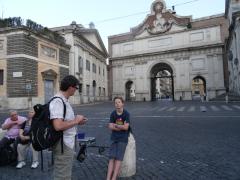 18th Sep 2015 - Tom and Grandma 2015
Mount Vesuvius and the City of Pompeii
Today it was an early trip by Metro to the Piazza Del Popolo where we were to start our tour to Mount Vesuvius and Pompeii.
There were about 40 of us on the tour with two English speaking guides.
Our first stop was Mount Vesuvius which is 9klms east of Naples. Mount Vesuvius is the only active volcano in Europe which last erupted in 1944. Predictions are that it due to erupt again soon with devastating effect, maybe 2017.
The size and shape has changed over time due to the eruptions. We were able to walk up the 1000 metres or so to the crater wall. The view towards Naples was a little hazy.
The walk down along the gravel road was as difficult as the walk up.
We then had a short drive to a hotel on the out skirts of Pompeii for a pizza lunch.
It was then on to see the ruins of Pompeii. Pompeii is an ancient Roman City which was destroyed and buried by ash and pumice during the eruption of Mount Vesuvius in 79 AD. Today it is an UNESCO Heritage Site. Originally it was thought that the people died from being buried by the ash but it is now known that it was from the toxic gas which escaped from the mountain.
The ruins were very interesting, especially seeing the infrastructure that they built all those years ago including an amphitheatre and running water!
It was a long 14 hour day by the time we had dinner on our return but it was very enjoyable.
Tom's Thoughts:
Tom enjoyed Pompeii but was bored and hot towards
Diary Photos
---