B1 Adventures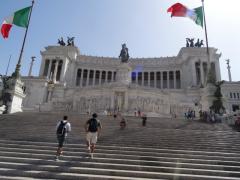 17th Sep 2015 - Tom and Grandma 2015
Colosseum and Rome Forum Tour
Today we spent the morning trying to keep cool!
We made our way to the Victor Emmanuel Monument (the first King of United Italy) which houses the Ministry of Culture and Heritage and the tomb of the Unknown Soldier. It is aimpressive white building with lots of statues and which the locals call "the wedding cake".
The current building was used by Mussolini in the Second World War who famously made speeches from the balcony and subsequently the building is not a favourite with the locals. The views from the top were great.
On the way we stopped at the Galleria Shopping arcade where we had a long late morning tea.
At 4pm we met our Guide for our Roman Forum and Colosseum Children's Tour.
There were only us and another Australian family on the tour. We walked down the road looking at old Roman ruins and the statues as we headed towards the Colosseum. The guide was very informative and told the children lots of little stories.
The Colosseum tour was also great again, we learnt so much.
It was then dinner across the road before heading home.
Tom's Thoughts:
Tom really enjoyed the Colosseum tour but found the heat hard going!
Diary Photos
---