B1 Adventures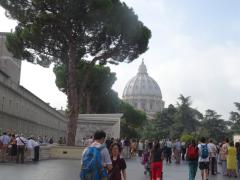 19th Sep 2015 - Tom and Grandma 2015
Last day in Rome
Our last booked tour in Rome was the Vatican Museum and St Peter's Basilica. Again, I was so glad that we booked the tour as the lines were enormous! People everywhere. We were informed on arrival that we would not be able to get into the Basilica until after 1:30pm as the Pope was holding a last minute Mass before his oversea tour.
Our tour guide was extremely good and pointed out so much as we walked around.
The Vatican museum was very interesting but the highlight was the Sistine Chapel and the frescoes of Michelangelo! It was very crowded and hot though!
After lunch we were able to visit the Basilica and as we in just after it opened the crowds were small. Tom light a candle for the family.
We then stopped at the Piazza del Popolo to visit the Leonardo de Vinci Museum which was full of interactive models as well as prints of his artwork. Tom really enjoyed it and he also bought a book.
It was then back to the apartment to escape the heat and have a rest.
In the evening we visited the Spanish Steps where we enjoyed our dinner whilst chatting to an English couple.
Tom's Thoughts:
Tom enjoyed the morning Vatican tour and was interested in the history but found the crowds and heat hard to take. He loved the Leonardo de Vinci Museum!
Diary Photos
---