B1 Adventures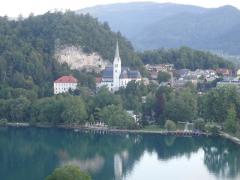 13th Jul 2017 - Rail Trip 2017
Day 16 Lake Bled
Today we were up early and off to the bus station so that we could catch a ride to the National Park to visit the Zgornje Gorge. We ended up getting a driver.
It was a beautiful 5 klm walk each way along a wooden path with running creek water and small rapids.

The gorge itself is the site of the high old raiway bridge which was built through the cutting in 1891.

We were came back up there was a line of over 150 people waiting to pay!

On our return our Driver picked us up and took us up the rocky hilltop to the Bled Castle, by then we were ready for coffee and cake.

The Bled Castle is one of the oldest castles in Slovenia. Its first written mention is in 1011.

The image of the castle towering above Lake Bled and its romantic island and church has earned Bled worldwide fame!

The castle buildings are spread over two courtyards and the museum tells the history of the Bled region from the Bronze Age to the present.

The views of the Gorenjska region, tucked between the mountain ranges of Karavanke and the Julian Alps are breathtaking!

We then walked down the hillside stopping at thw beautiful Catholic Church of St Martin, which was a lot simpiler inside but very beautiful and tranquil.

Lunch was in a restaurant by the lake.

Our afternoon was spent quietly, I had a wonderful facial at the Wellness Centre and Joan had a rest.

At 4:30pm we headed out again again, this time we took a boat powered by a man standing with two long oars acoss the lake to Bled Island. There were about 14 people on the boat.

The attraction on the island is the beautiful church. There was a small Wedding Reception taking place in the gardens.

The ringing bell has always very dear to many pilgrims and visitors to the island. By ringing the bell (which we did) you commend yourself to the Mother of God in hopes that our wishes are fulfilled.

On our return we strolled up to an old inn which is a guest house and restaurant and we had a wonderfull meal whilst sitting outdoors, savouring the view once more.

I talked Joan into sharing the famous Bled Cake for dessert!

When we paid our bill the owner gave us each a long stemed rose which was a perfect ending to a wonderful day!






Diary Photos
---