B1 Adventures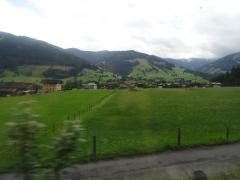 15th Jul 2017 - Rail Trip 2017
Day 18 Lake Bled to Innsbruck
I went out for an early morning walk to have one final look at our wonderful surrondings.

After breakfast we caught a taxi to Lesce, a little town just outside of Lake Bled to continue our journey.

Today we travelled back into Austria and up to Innsbruck where we are spending the next three nights. We travelled high up into the alps and the scenery was beautiful, the clouds were low over the mountains and the houses were adorned with beautful flowers hanging over the balconies. We saw lots of ski slopes along the way as well as hikers.

We changed trains at Schwarzach just before lunch which we had in the diining car.

The train was full of young backpackers as well as bikers, their bikes travel in a designated carriage.

We arrived in Innsbruck around 3:30pm and booked into our hotel which is just out side the walls of the old town, " Grauer Baer" which translates as grey bear!

Innsbruck appears to be is quite large and of course is quite a famous ski resort in Winter. The Winter Olympics were held here in 1964 and 1974. Skiers also train here during the summer.

The old town was once a walled city and the old buildings date back to the 1400s.

The buildings are well maintained and their colours are beautiful! Some of them are very ornate.

I am sure that The McDonalds store is one of their most beautiful stores in the world!

We spent the afternoon wandering around the city and admiring the sights. There appears to be more tourists around but that might be because the streets in the old town are narrow.

The Inn River runs through Innsbruck, it is a right tributary of the Danube. It is very pretty a long the river bank.

We had dinner in a lovely old pub in the old town and the did some more strolling around.

There was the beautiful sound of music everywhere from some local buskers, incuding a man playing a violin.

Just beautiful!!


Diary Photos
---