B1 Adventures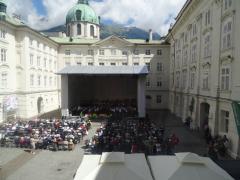 16th Jul 2017 - Rail Trip 2017
Day 19 Innsbruck
Today was a beautiful day - sunny skies and around 23 degrees.

Being Sunday we had a little bit of a late start.

Innsbruck is capital of the Provence of Tyrol and was founded in 1180. The original County of Tyrol was handed over to the Dukes of Austria in 1248 and Innsbruck was once was the residence of the Habsburg Royal Family.

After buying our 48 hour Innsbruck pass we started our sightseeting tour on foot.

Our first stop was the Tyroleal Museum of Popular Art which is mainly a museum of early life in the area. The museum contains lots of farm implements, householdwares and costumes as well as beautfully decorated furniture, much of it with folk art.

After trying some local apple strudel for morning tea, we visited St James Cathedral (Dom St Jakob) which was first built around 1270 but was destroyed by an earthquake in 1689.

It was completely rebuilt in high Baroque style between 1717 - 1724.

Next it was the Imperial Castle (Hofburg), the original castle dates back to the late middle ages and was built in 1460 as a royal residence for the Tyrolean Sovereigns. Over the years it was built onto and restyled by later Emperors, the last addition was by Empress Maria Theresia. There are over 400 rooms with many state rooms on display which are filled with wonderful portraits of the Royal Family as well as splendid furnishings.

After lunch we used the sightseeing bus to take us up to the Ambras Palace which stands in the middle of beautiful grounds. The medieval castle built in the 11th Century and was first used by visiting German Royality on their way to Rome.

It has a wonderful collection of artworks and Knights' armour.

On the way back down the hill we stopped to have a panoramic view of the city.

We later wandered into the old town for dinner and whilst we were eating we were entertained by a group of young engineering students who were busking around the country during their University break.

Another great day!

Diary Photos
---