B1 Adventures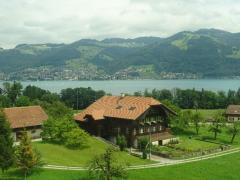 27th Jul 2017 - Rail Trip 2017
Day 30 Zürich back to London
Today I was a little sad to leave Switzerland! I have loved it although it is quite expensive! A cup of coffee is equivalent to $8:20 Australian! and those who know me, know that I like my coffee!!

That aside, the scenery is magnificent, the country is one of the cleanest that I have ever been to and the people are lovely, although a bit reserved. Everything is organised, runs properly and is on time.

We caught the TGV train from Zurich which up through France to Paris and then we took the Eurostar to London, arriving about 7:45 pm and finally a taxi back to our little Airbnb flat in Islington!

We have seen and done so much over the last month, the trip on the trains has been amasing!

We were given wine and dinner on the Eurostar so we decided to just go for a walk to brush away the cobwebs, and typical London weather, it started raining on the back!!

Over the next 3 days we are having some down time and we will be using the washing machine!


Diary Photos
---