B1 Adventures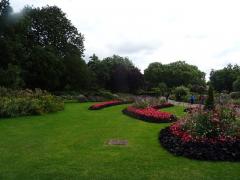 28th Jul 2017 - Rail Trip 2017
Day 31 Back in London
Today we had no real plans so we just "wandered"!!

We caught the tube to Hyde Park Corner as Joan wanted to visit the Australian War Memorial,  it was designed by her Artist cousin, Janet Laurence. The wall is semi circular and is made of western Australian granite stone and commemorates all the Australian Men and Women who served in the First and Second World Wars by listing the towns in Australia where they enlisted from. It was dedicated in 2003.

We then walked over to Hyde Park and bought morning tea which we had in the Rose Garden.

The gardens are certainly very pretty at this time of year and being the summer  school holidays there were plenty of families about.

We continued on  walking in the park until we reached the Albert Memorial which is a hugh ornate  memorial situated  in front of the Royal Albert Hall, it was erected by Queen Victoria during her mourning period, after the death of her husband.

Our walk continued  by the lake and went over into Kensington Gardens and around past the Princess Diana Memorial Fountain where there were lots of children paddling.

Then on to Kensington Palace, where the main garden has been all planted in white, in honour of the 20th Anniversary of Dianna' s death, next month. It was lovely!!

We then walked down Kensington Palace Garden Road (the most expensive street in London!!),  past all the stately Embassy and privately owned houses to Bayswater Road where we caught a bus into High Street, the mecca shopping area of London!

We spent some time browsing in the beautiful old four storey Liberty store before having lunch in a little cafe in Soho.

I then took Joan down to one of my favourite places in London, Covert Gardens, the old hall is full of beautiful shops and high quality market stalls as well as eateries, there is always plenty of street performers to provide entertainment, as was the case today!!  In the 1800s, Covert Garden was London's fruit and vegetable market place.

We then walked along past the theatres in Drury Lane and then on to the Royal Opera House before we caught the tube back to Islington.

We went to this tiny Ethiopian Restaurant for dinner where we were greeted and looked after by the owner who was also the cook, we enjoyed her amazing food which we ate the traditional way with our fingers and injera bread. 
Diary Photos
---