B1 Adventures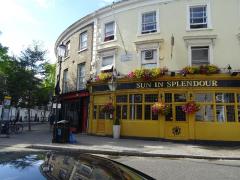 29th Jul 2017 - Rail Trip 2017
Day 32 Visiting two of the must visit places in London!!
This morning We were up early to catch the tube to go to Notting Hill to the Portobello Markets which is one of my favourite places to go whilst in London. The markets are largely antiques stalls and I can' t begin to describe the amount of stuff there!! Over the years I have bought a few lovely things as I did today!. There are also general stalls as well as wonderful food and fresh fruit and veges. The stalls seem to go on for miles!!

Joan and I caught up with my friend Bev who lives in Melbourne which was great! The morning included coffee and a lovely savoury tart from one of the stalls.

We were glad that we went early as it became very crowded later in the morning!

It was the back on the Tube and in to Knightsbridge to visit Harrods which was probably the other end of the scale!

It is still as wonderful as ever and we spent most of the time in the food halls admiring the wonderful displays before having afternoon tea in one of the cafes.

In the evening went to a great pub for dinner which I had found on the internet.

Diary Photos
---