B1 Adventures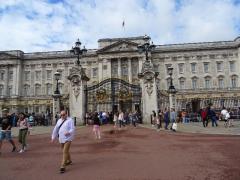 30th Jul 2017 - Rail Trip 2017
Day 33 Last Day in London!
Before we went to Europe I booked tickets to visit the State Rooms at Buckingham Palace which are open every Summer when they are not used in an official capacity. In all my trips to the UK I had never managed to do this and I wasn' t disappointed!!

It is a self guided tour with the aid of an audio guides. We visited about 10 rooms as well as grand entrances and went up stately staircases.

Buckingham Palace has been the official royal residence since the 1820s when George V had it decorated by famous architect, John Nash. It was added on to during the reign of Queen Victoria to accomodate her large family

The last major addition to the Palace took place in the late 19th century. It has over 700 rooms.

The decor was grand but felt stately. The Royal family have a wonderfull collection of artworks including paintings by Rembrandt, Rubens and Van Dyck and a magnificent sculpture of Venus and Mars done by Canova. Many of the items were bought by Prince Albert.

In each room there was a display of the many many gifts that have been given to the Queen by dignitaries from other countries over the last 65 years, including the magnificant Royal Coach given to her by Australia to celebrate our bi- centenary.

There was also some wonderful portraits of the Royal Family and a special display about Diana which has been put togetherby her sons to mark the 20th Anniversary of her death, on 31st August.

We had morning tea in the garden cafe before leaving through the gardens.

We then went down to the docks and caught the ferry boat down to Greenwich which was great, the sun was shining and it was good to see the wonderful buidings from another angle.

We had a late Sunday roast at the old local brewery before doing some exploring around town.

We admired the Cutty Sark which was a wonderful old sailing ship which finished its commission carrying wool between Australia and England.

Because of the time we didn' t make it up the hill to the National Observatory but we did manage to visit a pub which is on the Meridian Line.

We decided to catch the bus back to London which was a silly idea because of the Sunday afternoon Summer traffic!

The evening was spent packing and getting organised for our flight to Singapore tomorrow.





Diary Photos
---