B1 Adventures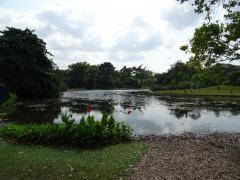 2nd Aug 2017 - Rail Trip 2017
Day 36 Singapore
Today was another day of sightseeing in this great city which is full of wonderful sights and smells! The people are so helpful and friendly, the city is clean and it has a wonderful transport system.

After breakfast in down town we caught the Metro to the Botanical Gardens before it got too hot, although it was already 29 degrees and humid! I followed the Asians and used my umbrella for shade.

The gardens are more than 150 years old and is 74 hectacres of open spaces and tropical flora. There is also a wonderful orchid garden which was quite different to the one yesterday, as we saw them growing in their natural habitat.

Of course we stopped for morning coffee in the garden cafe!

We were feeling the humidity by the time we left so we headed over to one of the local malls on the bus for some shopping and a light lunch.

It was then back home to get changed for one of the highlights of my trip - high tea at Raffles Hotel. It is something that I have wanted to do for over 30 years. You have to book well in advance to get in.

We arrived by taxi and we were greeted by the elderly doorman, dressed in period Indian Costume, who opened the car door for us.

The hotel is beautiful, the owners have recently being giving it a face lift and they only have the back wing to finish. It was just like we have seen in the movies from the cane furniture on the spacious verandahs to the elegant furnishings inside.

The dining room was a picture, complete with a young lady playing the harp. We had a great table on the edge so we could see the whole room. The service was impeccable and the food was delicious! There was some hot food and of course the traditional 3 tier plate of little treats, including cucumber sandwiches. We, of course had a glass of bubbles.

After nearly 3 hours of pure delight we walked around the hotel and into the beautiful old bar where we indulged in a Singapore Sling (S $32)! We even throw our peanut shells on the floor like everyone else!

It is a shame in some ways though, that there a hugh sky scraper towering over such a beautiful building, although the flip side is that Singapore has done a great job in ensuring that their heritage buildings are preserved.

From the beautiful Raffles Hotel we walked down to the harbour past all the Street Food stalls (it was shame that we were too full to eat!!) where we caught a River Boat Cruise which went from Marina Bay under the bridge and along the Singapore River. It was just dark and the waterfront was spectacular!! The commentary was very informative and we picked out an area that we would like to explore in the morning!
Diary Photos
---